6 Diana Rigg Performances Lady Olenna Fans Need to See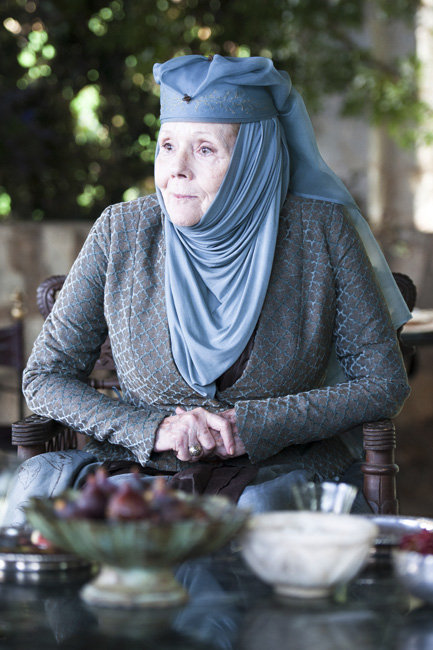 HBO
Game of Thrones fans know Dame Diana Rigg as Lady Olenna, the witty, worldly, and treacherous matriarch of House Tyrell. She's impossible to resist — a sharp old lady who spends her time teaching granddaughter Margery how to use her womanly ways to survive and thrive in the Seven Kingdoms. But this isn't Rigg's first trip around the King's Landing gardens. The actress has had a long and varied career, with credits ranging from stylish mod spy shows to enough Shakespeare to make Sir Patrick Stewart blush. Here are a few of our favorites.
The Avengers
Rigg's most enduring legacy might be that of sexy super-spy Emma Peel in this cult classic from the '60s. The Avengers was the first British series to be shown on prime time in the U.S., so ask your grandpa about Emma's signature catsuit sometime.
A Midsummer Night's Dream
In the 1968 film version of Shakespeare's most whimsical comedy, Rigg pines away as Helena. Yes, that's a young Helen Mirren you see playing Helena's frenemy Hermia. And now we're hoping that these two became lifelong friends and still trade showbiz gossip on the regular.
On Her Majesty's Secret Service
Maybe Olenna is fearless because even the Lannisters know better than to mess with a Bond girl. Rigg stars as Countess Teresa di Vincenzo in George Lazenby's single 007 outing. She was the first and only woman to ever tie the ultimate man-about-town down.
A Little Night Music
The multitalented actress' theatrical career includes several musicals. In this film version of the critically acclaimed Stephen Sondheim musical, Rigg shows off her pipes for the moviegoing crowd. The film's reception was tepid, but her performance was almost universally praised.
Extras
Ricky Gervais wooed quite a few heavyhitters over to his sophomore series effort, almost always to make fools of themselves. Rigg kills as herself in the Daniel Radcliffe episode. You've got to respect a Dame Commander of the Order of the British Empire who's still game to let the star of a children's franchise fling a condom in her face.
Doctor Who
Rigg camps it up in seventh season episode "The Crimson Horror" alongside her real life daughter Rachel Stirling. To save the people of Sweetville, The Doctor takes on her Mrs. Gillyflower, a villainous Victorian with a dark (and super weird) secret. Watch it. Just trust us.