DJ Earworm's 'United State of Pop 2012' Teaches Us 4 Essential Pop Music Truths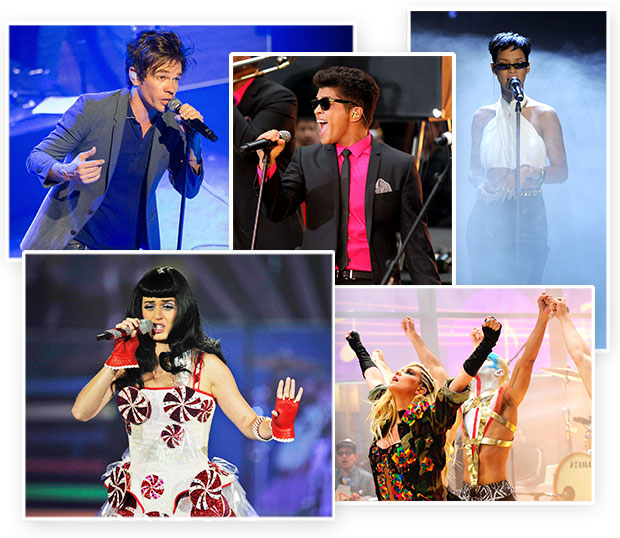 Once again, DJ Earworm has showed us what it's like to listen to 20 of the year's biggest pop songs at once. "The United State of Pop Music 2012" mashup is here, just in time to add it to your holiday party playlist (yeah, it's that good).
And while we bop around like jubilant, little pop-culture-loving elves, let us reflect on what we can learn about the state of pop music from this mashup, which includes everyone from Gotye, to Taylor Swift, to Phillip Phillips, Katy Perry, fun., One Direction, and Adele.
1. Ke$ha, fun., Rihanna, Katy Perry, & Bruno Mars are apparently the glue of pop music right now.
While the mashup features over 20 different pop songs from 2012, these five artists are featured most prominently and their lyrics and refrains comprise the majority of the chorus.
2. The universe, eternity, and the sky were HUGE this year.
Most of the lyrics sampled in the mashup are related to these topics and such tangentially related issues as shining, brightness, nighttime, and belief. Of course, the requisite dancing and hearts that are pop music's lifeblood are provided by the nation's favorite hot mess, Ke$ha.
3. Adele gets to rule 2012, even if her song came out in 2011.
That's right, folks. "Set Fire to the Rain," which is sampled in this mashup, was recorded in 2010 and released as a single in November 2011, but it's Adele so we're all willing to fudge a few months to allow her into this time capsule of a song. ("Skyfall" doesn't really fit in this jumpy set of songs.)
4. Shut up. Pop music is the best, snobs.
Yes, there was some fantastic music in 2012 that didn't involve cheesy lyrics, infectious, light beats, and ridiculous amounts of pink, but anyone who can't enjoy those artists and also admit that pop music served up some great hits this year is lying to themselves… and probably singing "You Don't Know You're Beautiful" at the sheer mention of the song whether they like it or not.
Listen to the full mashup below:
Follow Kelsea on Twitter @KelseaStahler
[Photo Credit: Wenn (5)]
More:
Golden Globe-Nominated Producer Says Adele Recorded 'Skyfall' Vocals in 10 Mins – EXCLUSIVE
Taylor Swift Turns 23, So Grow Up Already!
Ke$ha To Release 'Crazy Beautiful' Illustrated Memoir

'The Hobbit' Cast: A Who's Who New Character Guide (Moviefone)

'Les Miserables' Unscripted: Hugh Jackman, Anne Hathaway On Singing And Being Modest