Doc Watson, Folk Singer-Songwriter, Dies at 89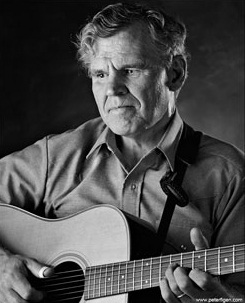 Arthel Lane "Doc" Watson, a Folk singing and songwriting legend, passed away on Tuesday at a hospital in Winston-Salem, N.C., according to the Associate Press via The Washington Post. The 89-year-old musician, who went blind at the age of one, had recently underwent abdominal surgery which resulted in his hospitalization.
During his life, Watson won seven different Grammy Awards and even a Grammy Lifetime Achievement Award. His flatpicking skills helped make the guitar a leading instrument in the '50s and '60s (over the fiddle or banjo) — and he recorded a total of 60 albums. He will be long remembered for his hits like "Shady Gove" and "The Cuckoo Bird."
Rest in peace, Doc.
[Photo Credit: Peter Figen]
More:
Donald Trump Fights With Wolf Blitzer