Donna Summer: A Tribute to the Original Pop Diva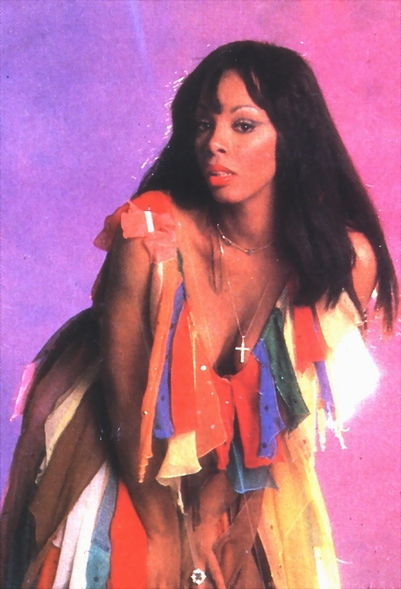 Rihanna, Britney Spears, Madonna: the charts are full of female singers crooning over electronic dance beats and trying to seem like they're the first one to ever do it. They are not. None of them can compare to Donna Summer, the truly original dance diva (though she would probably hate that word) who died of cancer today at 63.
I distinctly remember the first time I ever heard Donna Summer when I was in the back of my mother's station wagon in 1985. The DJ announced that this was the new track from Donna Summer and he was so glad she was back. When I heard the upbeat "She Works Hard for the Money," I was instantly hooked. I was only five, so I'm not sure why I had such an obsession with the song, but I made my mother by the the single (on vinyl!) at the local music store and listened to it over and over again in the living room, choreographing dance numbers, and probably annoying everyone else in the house. I wore that single out until it skipped.
But I remembered what that DJ said: This was her latest hit. Pretty soon we were back at the music store for more Donna Summer. I loved it all. The slow crooning that starts off "Last Dance" that becomes a churning thrum. The accusatory strut of "Bad Girls." And of course, the orchestrally brilliant "MacArthur Park," that just goes on and on with its daffy lyrics about cakes left out in the rain.
I still have no idea what that song is about. (Well, a cake left out in the rain, but what does it mean?) It wasn't until later, in college, when getting into electronic dance music all over again, that I discovered her racy coo on "I Feel Love," a song she wrote with Giorgio Moroder. It's often credited as the first dance song to have an entirely electronic beat to it. Listening to it now, with its humming synthesizers and manufactured tempo, it sounds like something out of the future, like something that the cast of Blade Runner would be dancing to, or probably listening to while rubbing their robotic genitals together.
These were the days before AutoTune, and long before hit-making producers could fiddle with some computers and turn some knobs and make a star out of anyone with a dream and a marketing plan. This was Donna Summer, an absolute force on the pop chart. Summer is one of those singers that has more hit songs than you realize. Just take a peek at her Greatest Hits album or glance at her Wikipedia page. "Love to Love You Baby," "Hot Stuff," "On the Radio," "No More Tears (Enough is Enough)": just the names alone are enough to conjure up the melodies and help you remember at least one time (even if at a bar mitzvah, a wedding, or a prom) where everyone was shaking on the dance floor to one of her songs.
Sure, Summer had her stumbles. She became a Born-Again Christian in the '80s and made some remarks about AIDS that offended her fervent gay fan base, the first group of people to really discover her on the glitter-filled floors of Studio 54. As she got closer to god, she had more and more trouble with fame, shunning it just as disco, and her style of music was falling out of favor and being taken over by the New Wave sound of the mid-'80s.
Summer would never really make it back to prominence. (The art of reinvention wouldn't be perfected until Madonna rose to prominence.) She tried a bit in the early 2000s, but it turned out people just wanted to see her trot out her old gems. Thankfully she had a substantial back catalog to fall back on for those who were looking for a retro flair for a nostalgia trip. But there are those of us who think of her music as something other than disco. That think of those magical tunes that can transport you to a great place or get a party started as what they really are: classics. Yes, Katy Perry, Lady Gaga, and Nicki Minaj are all great and they are certainly the future, but they will never be the first. That honor belongs only to Donna. And we'll never have her recipe again. Follow Brian Moylan on Twitter @BrianJMoylan
More:
Donna Summer, Music Legend, Dies at 63
Goodbye, Donna Summer: Neil Patrick Harris, Gloria Estefan & More Mourn on Twitter