Double-Amputee Oscar Pistorius To Compete in London's Summer Olympics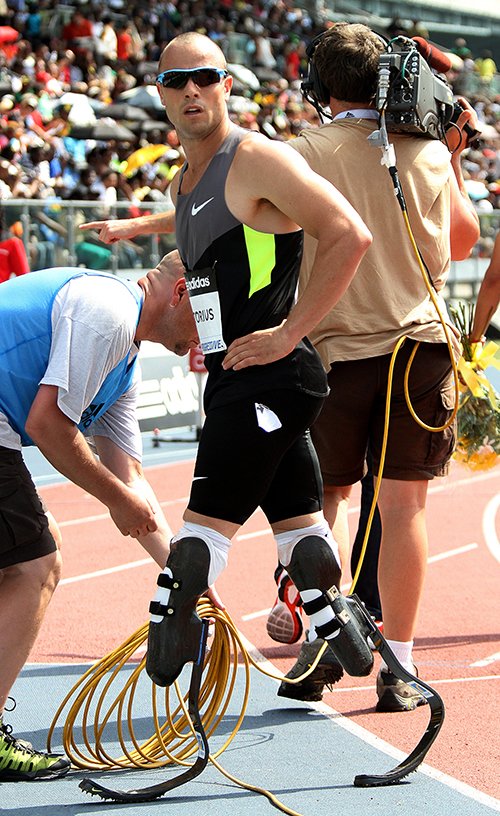 I'm always a little stunned when someone tells me they aren't excited for the Summer Olympics. Never mind that it finally gives us all something to watch in the midst of programming wasteland that is summer television, or that you can chant "USA! USA! USA!" without the slightest twinge of irony, the Olympics are the great unifier. In that, at some point, we're all going to get a little misty-eyed (or, full-on ugly cry sobs) watching history and drama unfold right before our eyes. 
And there's nothing quite like those Olympics tears, are there? Whether its hearing your country's national anthem or connecting with an athlete whose story of perseverance not only inspires, but truly puts things in perspective. But even those people who are mostly indifferent to the Olympics would have to be completely made of stone to not be in awe of one of the young athletes heading to London this year. 
Oscar Pistorius (pictured), a 25-year-old runner from South Africa, will compete in the 2012 Summer Olympics, and his inclusion will be a momentous one. Pistorius, a double-amputee who lost both of his legs before he turned one (he was born without a fibula in both of his legs), will be the first Paralympian to compete in an able-bodied track event. 
Pistorius, who set his sight on the Olympics after competing and winning in the Paralympics, said in a statement on his website this week, "Today is truly one of the proudest days of my life. To have been selected to represent Team South Africa at the London 2012 Olympic Games in the individual 400m and the 4x400m relay is a real honour and I am so pleased that years of hard work, determination and sacrifice have all come together."
The athlete, who has specially-made prosthetic limbs, continued, "I have a phenomenal team behind me who have helped get me here and I, along with them, will now put everything we can into the final few weeks of preparations before the Olympic Games where I am aiming to race well, work well through the rounds, post good times and maybe even a personal best time on the biggest stage of them all. I am also hugely excited to then be competing to defend my three Paralympic titles at the Paralympic Games. I believe [we] will see some amazing times posted and I am very much looking forward to what will be an incredible Olympics and Paralympics in London."
No matter how Pistorius fares at the 2012 Olympics and Paralympics, there's no question that he will have the support of not only his team, but the entire world. That, in itself, is a thing of beauty. (Seriously, how can you not love the Olympics?)
Of course, Pistorius' story is just one of the many that can put a lump in your throat in the great history of the Summer Olympics. Here now, are some more of the most inspiring, amazing moments and athletes. And no, I'm not crying. I'm super crying. 
Overcoming an Injury: When you fall, you've got to dust yourself off and get back up again. There's been no more dramatic reminder of that than Olympians whose years of hard work can come apart in a second when they are faced with the horror of an injury. U.S. gymnast Kerri Strug became a national treasure in 1996 and had one of the most memorable (not to mention parodied) moments in Olympics history when she came back from a vault injury to help her team, known as the Magnificent Seven, clinch the gold. But there may no more inspirational moment in the history of the Olympics, or all of sports for that matter, than during the 1992 Barcelona games when U.K. runner Derek Redmondsuffered a devastating tear to his hamstring. Redmond, in agony, got up to finish the race and was joined on the track by his father, who helped get him to the finish line. While Redmond, who was met with a standing ovation by the crowd of 65,000, was technically disqualified, to the world he still
Winning for a Loved One: It's an unimaginably heartbreaking scenario for the athletes who finally make it to the Olympics, only to lose a loved one who would never be able to see their triumph. At the 2008 Beijing games German weightlifter Mattias Steiner won the gold in the superheavyweight category a year after his wife passed away. Tragically, many athletes have had to go on just days after the death of a family member. In the 2010 games in Vancouver, Canadian figure skater Joannie Rochette competed, nearly flawlessly, just four days after her mother died from a heart attack. She earned the bronze and dedicated the win to her late mother. In 1988 speed skater Dan Jansen's sister Jane died just before the games were underway. He promised to win for her, but tragically Jansen fell during his race. Then, six years later at the 1994 games in Lillehammer, Jansen, in a dramatic fashion made good on his word. The skater earned the gold and took a victory lap with his daughter, Jane. Watch a tribute video here:
Victory in the Face of Adversity: While the Olympics, at their core, are about unifying the world, we haven't always lived in a unified world. In the 1936 Berlin games in Berlin, runner Jesse Owens, an African-American, raced when Adolf Hitler attempted to prove Aryan supremacy. That did not happen. Owens proved that he was not inferior and the track and field star won four gold medals at the games. Overcoming racial divides made for one of the most iconic photos in history, not to mention one of the most significant moments in civil rights when U.S. track and field athletes Tommie Smith and John Carlos took to the podium at the 1968 Mexico City Olympics to get their gold and bronze medals, respectively. During the ceremony, Smith and Carlos raised their fists to the sky, signifying what was interpreted as the Black Power salute during a time when there was still great racial divide in America. Smith would later say that it was for human rights; the indelible image still speaks volumes today.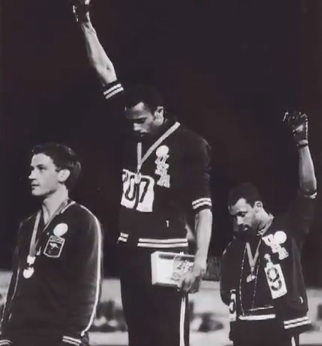 Defying the Odds: Do you believe in miracles? If you've ever watched the Olympics, you most certainly should. The unimaginable becomes a reality during the Olympic games, especially for the underdog. A Jamaican bobsled team brought in the viewers at 1988's Calgary games; although the team lost, it earned the respect of the world, and became the inspiration for the film Cool Runnings. At the 1984 Los Angeles games, 16-year-old Mary Lou Retton became a tiny forced to be reckoned with when she became the first American in history to win a gold in gymnastics. But the miracle to trump all sports miracles happened during the 1980 games at Lake Placid, when the United States' men's hockey team defeated the favored Soviet team. Heralded as one of greatest moments in sports and U.S. history, it remains the ultimate underdog victory tale and became the inspiration for its own film called, aptly, Miracle. Watch the dramatic win here:
Superhuman Strength: If an athlete makes it to the Olympics, there is no doubt they are an accomplished force already. They are world-class athletes, in every sense of the word. From the mind-boggling record-breaking runs from Michael Johnson and Usain Bolt to logic-defying turns by Jonny Moseley and Nadia Comaneci, the Olympics have given us some of the greatest athletes of our time. But no one proved to be a super-athlete quite like swimmer Michael Phelps did during the 2008 summer games. Winning eight gold medals in a single Olympiad, more than any other competitor in history, Phelps changed both the course of the Olympics, as well as what we imagine an athlete can do, in the span of 16 thrilling days. Watch: 
The 2012 Summer Olympics kick off on Friday, July 27 in London. 
[Photo credit: WENN.com]