Dove Video Proves Women Are More Beautiful Than They Think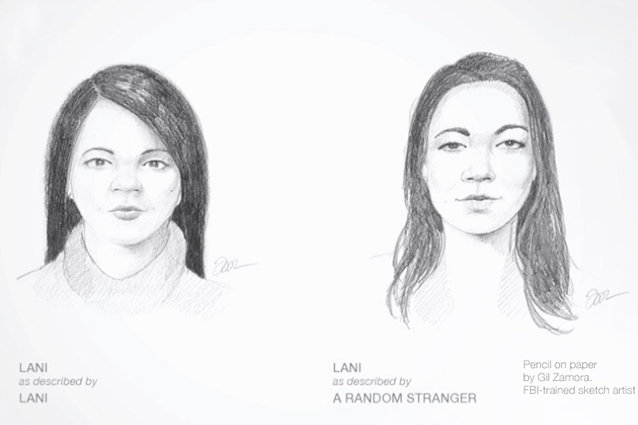 If you want a good kind of cry today, check out this new video sponsored by Dove called "Sketches." It features a project in which the beauty product company hires a sketch artist, the kind who usually puts together composites of criminals based on witness description, to draw women per the women's own descriptions of themselves. He's separated from his models by a curtain, so he never sees them.
Then, the artist draws the same women based on strangers' descriptions of them. You see as the conversations shift from protruding chins and skin discolorations to shining eyes and nice cheekbones. You also see that the resulting sketches are sadder, chunkier — and also less accurate — when based on the women's own descriptions of themselves.
Kudos to Dove for continuing what they've called their "Campaign for Real Beauty," which is based on the radical notion that advertising can be good for the world — and can still sell us lotion and bodywash without making us feel badly about ourselves first. This is one more piece of hardcore proof that our media messages wear women down, and that The Beauty Myth is real and destructive. Of course, it's also important to note that Dove's parent company, Unilever, is hardly guilt-free in the fraught beauty industry. But this video and this project are certainly forces for good.
Watch it here:
Hollywood.com correspondent Jennifer Keishin Armstrong is the author of Sexy Feminism and Mary and Lou and Rhoda and Ted, a history of The Mary Tyler Moore Show, due out in May. Visit her online at JenniferKArmstrong.com.
Follow Jennifer on Twitter @jmkarmstrong 
More: 
Do Celebrity Eating Disorder Confessions Do More Harm Than Good? 
Audrey Hepburn Didn't Think She Was Beautiful  
Jennifer Lawrence Talks About Her Weight… Again 
---
From Our Partners:


Eva Longoria Bikinis on Spring Break (Celebuzz)


33 Child Stars: Where Are They Now? (Celebuzz)