The I of the Storm – Dramatic Celebrity Walkouts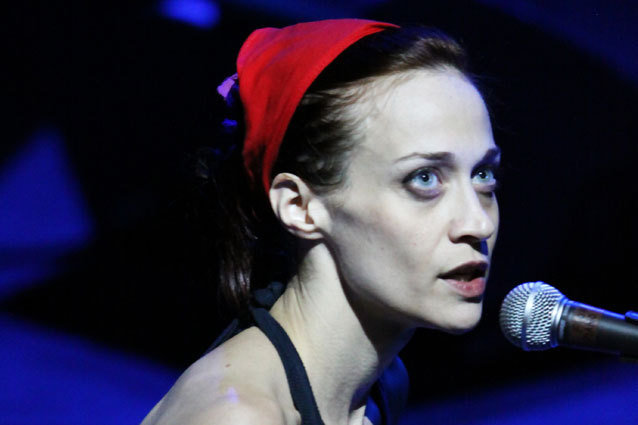 Robb Cohen/AP
Fiona Apple is beautiful, scarily talented, and a wonderful performer, but whatever you do, do not be predictable around her. At the end of August, after the crowd at her performance for the Louis Vuitton Timeless Muses party in Tokyo wouldn't simmer down, Apple climbed atop her piano and told the audience to "shut the f**k" up. Shockingly, the crowd failed to stop talking after Apple's polite request, so she yelled, "Predictable! Predictable fashion, what the f**k?," and stormed off the stage.
In honor of her dramatic walkout, here's a look at 5 other stars that are in the running for Drama Queen of the Music World.
Axl Rose
What would a walkout list be without Axl Rose? Rose has always had a tense relationship with his fans and has been the muse of many bottle-throwings, riots, and boos. A paradigm of the temperamental rock star, he's walked off of stages and caused riots since 1992. His latest stage fit was in 2010 at a concert in Dublin. After the crowd refused to stop throwing bottles onto the stage, Rose walked off the stage. Before you go full-on Team Axl, though, let it be noted that Rose had taken the stage ninety minutes late.
Billie Joe Armstrong
In 2012, Green Day's Billie Joe Armstrong famously entertained the crowd at the iHeartRadio festival with a glorious tirade protesting the fact that their set was cut by twenty minutes, courtesy of Usher's long performance. After being told that they only had one minute left for their performance, Armstrong began ranting about how he's been around since "198-f**king-8" so people should respect him, since he's not "f**king Justin Bieber" (I would hope not, the mere legality of that is questionable). Armstrong smashed his guitar on stage a few times before walking off the stage and into a PR-mandated rehab.
Morrissey
Morrissey is no stranger to cooking up a storm of controversy, and his 2009 Coachella performance was no different. Offended by the smell of barbecued meat wafting through the air, the rocker stopped his set and said, "I can smell burning flesh and I hope to God it's human." Morrissey walked off the stage, only to return a few minutes later and restart his performance, explaining, "The smell of burning animals is making me sick. I just couldn't bear it." Frustrating as it may have been, at least Morrissey came back and only wanted humans to be burning alive instead of animals.
Caleb Followill
Kings of Leon have may as well have the word "Drama" in front of their band name. The band famously walked off a St. Louis stage in 2010 after getting attacked by a vicious gang of pigeons who flew around pooping on the band (not the fans), and reportedly even pooped in bassist Jared Followill's mouth. Clearly the pigeons weren't fans of the band, and KOL walked off after only 3 songs. In 2011, though, lead singer Caleb Followill walked out of a Dallas show, even though not one pooping pigeon was seen. Claiming he was just dehydrated because of the heat and needed a beer, Followill angered many fans by not returning to the stage, even though he said he would. Brother Jared Followill told the booing crowd to "F**king hate Caleb, not us." There's that brotherly support.
Jack White
Jack White played a show in 2012 at NYC's Radio City Music Hall, only to walk off the stage after fifty-five minutes. Many rumors/explanations were going around as to why White left the show early, none of which made sense. Some said that White was upset because the audience didn't seem as they were into the show, since at one point White asked the crowd, "Jesus Christ, is this an NPR convention?" (maybe someone should've told White that even if they wanted to, audiences can't get up out of their seats or dance around in aisles at the Radio City Music Hall?). Others stated that White is a perfectionist and was frustrated with the sound quality because that's "rock and roll." Did someone change the definition of rock and roll and forget to tell the rest of us?
More:
Rock Star Stage Names - Some of the Best
Pop Stars Who Need to Work on Their Sales Pitch
Hit Songs Originally Intended for Other Artists
---
From Our Partners:


40 Most Revealing See-Through Red Carpet Looks (Vh1)


15 Stars Share Secrets of their Sex Lives (Celebuzz)