Celebrity-Inspired Halloween Costumes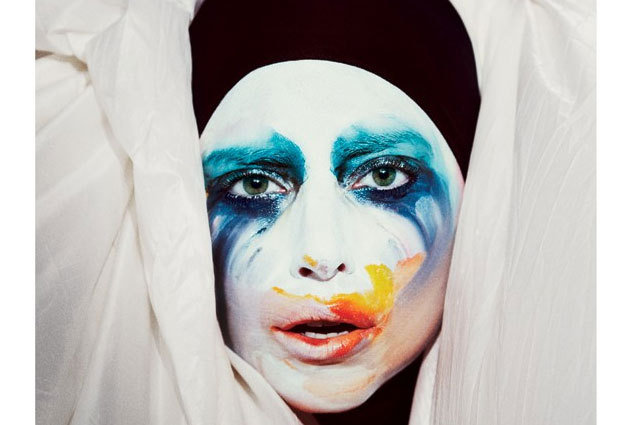 This is a difficult time for adults everywhere, as many of us are faced with a very serious problem known as the super-cool, grown-up Halloween costume. Because, basically, once you're out of your teens it can look a little ridiculous if you're not careful. But we're here to help! Some of the best costumes are celebrity-inspired and we can think of a handful of celebs who are just begging us to dress up like them for Halloween this year. Here are a few costume ideas for the celebrity-obessessed.
Applause Lady Gaga
It's very simple. Step 1: Get some face paint. Step 2: Smear said face paint liberally all over your face. Step 3: Wear whatever else you want, just make sure your heels are six inches-plus. Step 4: Look really, really pleased with your personal, sexual, and artistic life choices at all times and voila! You are Lady Gaga promoting her "Applause" single!
Met Gala Kanye West & Kim Kardashian
Who can forget the moment Kanye West and Kim Kardashian hit up the 2013 Met Costume Gala? Nobody can, which means that when you and a friend/partner show up dressed like the most talked about celebrity couple of the year, you'll be a huge hit. This costume is also fairly simple — one of you wears a tux (and an inflated — though perhaps well-deserved — sense of self-importance), and the other wraps a lovely floral curtain around themselves repeatedly. Or uses the actual floral fabric from an actual couch, since that's what everyone compared to Kim's Givenchy gown.
MTV Video Music Awards Miley Cyrus
Okay, here's what you do. First, you get bold enough to actually go out in public wearing nothing but nude-colored underwear (if you can get ahold of some plastic underwear, and you can bear the chafing, then go for it). Then you do your hair à la Cynthia doll from Rugrats. Next, get a giant foam finger and… well… you know what to do with it.
Great Wall Of China Justin Bieber
This is also an extremely simple costume to pull off, if you have two willing friends. Make sure your friends are bigger than you, although it's not necessary that they be as large as Justin Bieber's bodyguards. And then get them to carry you around on their shoulders for the entire night, including (especially) up and down any stairs. You could also wear a hat or name tag that says "Biggest Pop Culture Douche Ever," in case people need clarification.
More:
Why Justin Bieber Needed To Be Carried Up The Great Wall
Miley Cyrus Jokes About Her VMA  Performance For 'SNL'
It's Now Seasonally Appropriate To Watch 'Hocus Pocus'
---
From Our Partners:


40 Most Revealing See-Through Red Carpet Looks (Vh1)


15 Stars Share Secrets of their Sex Lives (Celebuzz)