Ed Koch, New York City Mayor Turned Film Critic, Dies at 88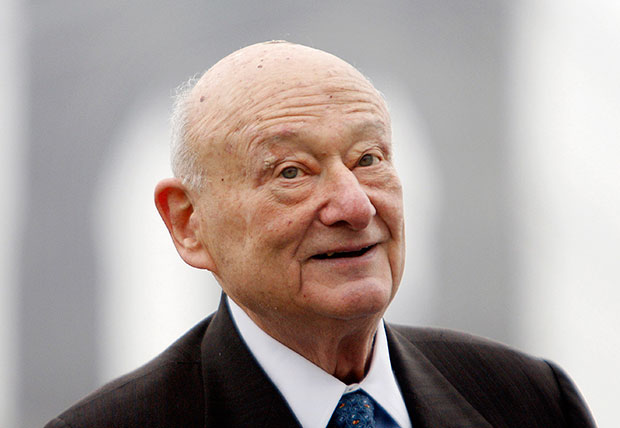 Ed Koch, known for his abundance of personality while working as mayor of New York, died early Friday morning at the age of 88.
According to reports, the former mayor was admitted to the intensive care unit on Thursday morning, passing away around 2 A.M. on Friday.
Current Mayor Michael Bloomberg released this statement, reflecting on Koch:
"In elected office and as a private citizen, he was our most tireless, fearless, and guileless civic crusader. Through his tough, determined leadership and responsible fiscal stewardship, Ed helped lift the city out of its darkest days and set it on course for an incredible comeback. We will miss him dearly, but his good works – and his wit and wisdom – will forever be a part of the city he loved so much. His spirit will live on not only here at City Hall, and not only on the bridge the bears his name, but all across the five boroughs."
Beginning his career as a lawyer, Koch worked his way up the political ladder, becoming a U.S. congressman from 1968 to 1977, when he ran and won the position of New York City's mayor. He served three terms.
After his time in government, Koch firmly put his stamp on the world of pop culture. In 1997, Koch presided over The People's Court for two seasons. He published Eddie, Harold's Little Brother, a children's book, in 2004. And for nearly his entire, post-mayoralty career, Koch wrote and delivered film criticism in a number of mediums.
As an avid moviegoer, Koch penned weekly reviews for the New York paper The Villager and the Long Island magazine Dan's Papers. In 2009, he started his own video enterprise, Mayor at the Movies. Utilizing the former mayor's outspoken nature, the reviews featured Koch on camera giving his two cents on movies currently in theaters.
Koch also found his way to the other side of the entertainment business. As a face of New York City, the former mayor appeared on Saturday Night Live, Sex and the City, and had a cameo role The Muppets Take Manhattan. In 2012, the mayor was in the spotlight of two documentaries: The Central Park Five and the all-encompassing Koch.
Today, New York City has a lost one of its former leaders, and perhaps more surprisingly, the world of film criticism has lost one of its greatest characters.
Follow Matt Patches on Twitter @misterpatches
[Photo Credit: Seth Wenig/AP Photo]
More:
'30 Rock' Finale Recap: I Will Never Forget You, Rural Juror
Coen Brothers' 'Inside Llewyn Davis': 1960s Greenwich Village, Plus a Cute Cat — TRAILER
Ray Liotta Joins 'Muppets 2', His Second Muppet Film: 10 Other Alums We'd Like to Return

Miley Cyrus Teaches Us Yoga on the Beach — INFOGRAPHIC