Why Ed Sheeran Will Dominate All Upcoming Award Shows
I might be bias because he's my absolute favorite musician to ever exist, but Ed Sheeran got his first, and very well deserved, moonman from the MTV Video Music Awards on August 24. Winning the award for Best Male Video for his hit single "Sing", this was also his first American award. Ever. Well it's about time!

This is going to be a huge PSA from me to you about how it's practically necessary to be a big fan of this guy. This is no joke. If I had to pick only one musician to listen to for the rest of my life, with no hesitation, it would be Ed.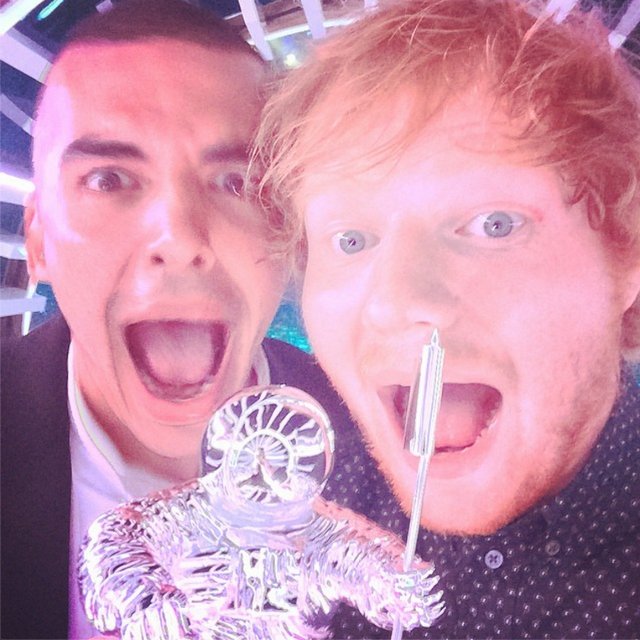 Instagram/teddysphotos
1. His lyrics are super cleaver.
2. It's only him and a loop pedal on stage. Pure talent.
3. He was featured in People Magazines "Sexiest Man Alive" issue this year (It doesn't have to do with his music, but we all just have to acknowledge that high honor).
What's wrong with him you may wonder? Nothing. Ed Sheeran is a perfect human.
4. Every song he sings is flawless.
5. Every song he sings live is even more flawless (my personal favorite is "Give Me Love" from his first album "+". Not only does it show off his insane vocals, but four minutes into the song, he builds a beat with just his guitar and voice. As mentioned before, he uses a loop pedal in order to do so).
Prepare to have your mind blown right now:
Impressed? I'm not done. The video doesn't even do it justice. See it sung live. Goosebumps everywhere…
6. He writes all his own music.
7. He writes other peoples music (only for some semi-famous musicians though like One Direction and Taylor Swift.. Maybe you've heard of them?).
8. Basically he's a music writing machine (all this and he's only 23…HOW!?).
Unlike other huge artists nowadays, Ed doesn't need anything extra to sound good or put on an entertaining show.
9. He doesn't need to sing along to a track.
10. He doesn't need backup dancers.
11. He doesn't need sparkly costumes.
12. He doesn't need to make it a huge production.
He literally stands in the same spot for his whole set, yet is able to make his shows the most amazing ones I've ever been to.
After being nominated frequently, and now finally winning, this offically makes Ed a part of the American music scene. I wouldn't be surprised if he takes home all future nominations from here on out (and if "X" doesn't win Album Of The Year, I will protest). Let's work for that Grammy next!
Luckily, Ed Sheeran continues his North American Multiply Tour on August 26 in San Jose, California. But he's here until mid-September, then he travels around the world through to February 2015.
There are no excuses not to see this tour. If you miss the closest show to you, just fly to another country to see him instead (that's what I'm doing!). This is Ed Sheeran we're talking about people! If you're not willing to make that sacrifice, you need to reconsider everything you just read. Hurry up and get your tickets now!
Have you seen Ed Sheeran live? What did you think of his show? Tweet us your thoughts!
Follow @hollywood_com
Follow @cyndicappello