Ed Sheeran Dating Taylor Swift? I'd 'Never, Ever Ever' Date Her, Says Singer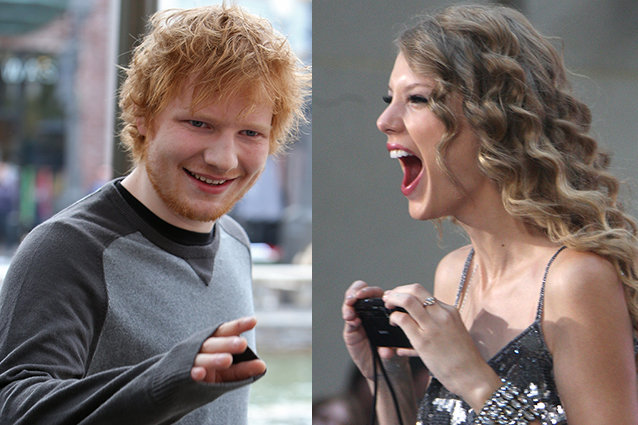 Taylor Swift may have earned her "boy-crazy" tag, but there's at least one guy she's been linked with who's happy staying in the friend zone. Swift's current tour-mate, singer Ed Sheeran, opened up in a recent interview with New Zealand broadcaster TVNZ that he wouldn't want to "spoil" their friendship with all that silly dating business.
Romance rumors between Swift and Sheeran had been building since October when Sheeran tattooed Swift's album title "RED" on his arm. Then reports reached a high after Sheeran, 22, was seen seemingly doing the walk of shame out of her London hotel room on February 19.
RELATED: Taylor Swift Loves Antiquing More Than Sex?
But the redheaded "Drunk" singer said in the interview that the incident was more innocent than it appeared. "I did stay there till four and I did leave in the same clothes, but I was playing her my new record. It was strictly that kind of thing. Literally, I went in there and we passed the guitar back and forth and played songs to each other."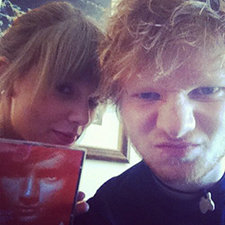 The whole experience has been a fast intro into the world of tabloid media for Sheeran, who says he was shocked that even his friends believed the reports. "My mates are texting me being like, 'Is it true?'" he says. "So I said it wasn't but the fact that people can believe it makes me feel like a bit of a stud, you know?"
GALLERY: 11 Most Surprising Celebrity Breakups
For now, the duo will continue their largely sold-out North American tour where there will be plenty of screaming fans and behind-the-scenes Instagram pics (above). And Taylor will have her pick of future soon-to-be-ex-boyfriends.
[Photo Credits: Wenn, Instagram]
Follow Michelle on Twitter at @HWMichelleLee.
---
You Might Also Like:


15 Oscar-Winning Nude Scenes


Topanga's Revealing Lingerie Shoot: Hello '90s!