Elijah Wood, Slash & Many More Mourn Maurice Sendak's Death on Twitter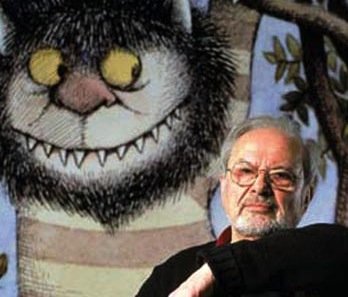 The world lost a creative gem Tuesday morning when Maurice Sendak passed away at the age of 83. To say goodbye to such a treasured childhood author is nothing short of tragic. But while some of us look to find solace in our worn out copies of Where the Wild Things Are, some of Sendak's biggest Hollywood fans took to Twitter to remember the legendary author.
Check out the tweets below and see what celebs had to say about Sendak's death. As you can see, he will be dearly missed.
Elijah Wood: "Maurice Sendak has left us for the land of the wild things. May he carry on adventuring." – @woodelijah
Mandy Moore: "Rest in Peace, Maurice Sendak…." – @TheMandyMoore
Al Roker: "A bit of our childhood just passed. Maurice Sendak died at the age of 83 in Danbury, Ct. Hope he's playing with Max and the Wild Things." – @alroker
Katie Couric: "Here @KatieShow, we're remembering the "Where the Wild Things Are" author w/ @stephenathome's Maurice Sendak interview." – @KatieCouric
Slash: "RIP Maurice Sendak. A couple of your books were huge to me when I was a kid. Lot of great memories thinking about them." – @slash
Talib Kweli: "Maurice Sendak. Thank you for your contributions to my imagination. Rest in Peace." – @TalibKweli
Author Judy Blume: "Maurice Sendak has died. I cannot put into words what I am feeling, what he and his work meant to me." – @JudyBlume
Questlove: "ahhh man! Maurice Sendak passed!?!?!? i was wondering why Where The Wild Things Are was trending. man!!!!!! this is a hurt piece." – @QuestLove
Henry Winkler: "@BreakingNews: Maurice Sendak, author of 'Where the Wild Things Are,' dies at 83 – @nytimes". Rest in wonderful fantasies." – @hwinkler4real
Kristin Fairlie: "So honored to have worked with the brilliant #MauriceSendak, one of the worlds greatest authors and the illustrator of #LittleBear." – @KristinFairlie
Author John Green: "Maurice Sendak taught me and millions of others that it was no sin to be a child." – @RealJohnGreen
More:
Maurice Sendak, Author of 'Where the Wild Things Are,' Dies at 83
Maurice Sendak's Legacy: Let The Wild Rumpus Continue