EMA Aftermath: Twitter Roundup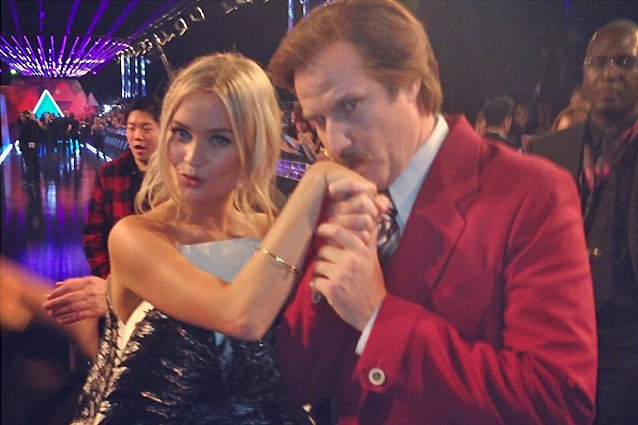 thewhitmore/instagram
The MTV European Music Awards were held in Amsterdam on November 10, and other than a few tryhard moments (side-eye to Miley), the show was full of good times, Ron Burgundy, and Iggy Azalea's nether regions. Here are some Twitter highlights from celebs who attended the ceremony.
Miley Cyrus
last night was a blurrrrrrrrrrrrrrr thanks @katyperry for hosting pic.twitter.com/WLmP1L006k

— Miley Ray Cyrus (@MileyCyrus) November 11, 2013
Miley is so hard, don't you know? She smoked a joint on television! Sure, smoking a joint onstage in Amsterdam is about as rebellious as eating a burger onstage in America, but still – Miley is following the "How to Be a Rebel 101" handbook to a T by now claiming to not remember much of the awards. Doubt that was the weed though, sweets…
MTV EMA
Obsessed with this photo! @RonBurgundy RT @thewhitmore: Stay Classy!! http://t.co/0gCGZHTKtP #MTVEMA

— MTV EMA (@mtvema) November 10, 2013
Hands down, Ron Burgundy was the greatest thing about the event. His romantic bike ride with Daft Punk pretty much made the whole weekend.
Eminem
I love award. http://t.co/aSbJdiJ3TZ

— Marshall Mathers (@Eminem) November 11, 2013
Man of few words meets the Anchorman himself.
Ariana Grande
Someone sang "I love the way" in the hallway, I turn around it's @BrunoMars. My organs fell out. I'm a corpse. I'm dead. HES SO NICE #MTVEMA

— Ariana Grande (@ArianaGrande) November 10, 2013
Ariana went on a confession-a-thon about her love for Bruno Mars on her Twitter. After she put her organs back in, of course.
Iggy Azalea
If you think this involves my vag lips your mistaken And yeah I'm posting it just to let you know I… http://t.co/Wzv3z5woWE

— IGGY AZALEA (@IGGYAZALEA) November 10, 2013
You just know the conversation's going to be good when these 8 words start a sentence: "If you think this involves my vag lips…"