Emily Maynard Cheated on Jef Holm? Or Not? Why Do We Care?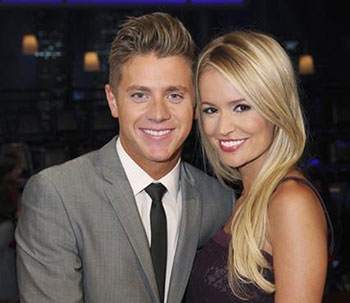 If you found yourself in the checkout line of a grocery/convenience/drug store this week and took a casual glance at the tabloid headlines, then you are well aware that things may be a little shaky for former Bachelorette Emily Maynard and her fiancé Jef Holm. Or maybe not. Who can say, really?
In case you're not in the Fresh Direct cult, the basic dealio is that Emily has allegedly been sexting an unidentified man-floozy. Emily denies it, Jef denies it, story over. But ho! There's more! In a made-for-daytime-TV twist, Jef tells People that it was his very own brother who leaked the totally not true (they all swear on little Ricki's life) story to the press. It's a vicious tale of lies and deceit that pits brother against brother in the quest for true love — which makes it perfect headline fodder.
Emily and Jef's visages may be splayed all over the glossy covers, but why, exactly, are their domestic issues newsworthy? Well, because the tabloids say so. Think about it. If Emily and Jef and Whoever from such and such season of The Bachelor weren't in the headlines, would you even give their relationships a second thought? Probably not. Because, after the final rose has been handed out, these so-called "celebrities" go from being television stars to just regular people. Gone are the cameras, the fantasy dates, the never-ending supply of free alcohol, and you're left with regular people, doing regular things, trying to make a regular relationship work.
And you know what? Regular couples sometimes break up. What!? Shocker, I know, but hear me out. Sometimes, kids, relationships don't work out, and people go their separate ways. And let's not forget that an entire season of The Bachelor is filmed in approximately six weeks. Which means these "I've never been this in love before" couples have been dating for less than two months. The number of relationships that have ended after six weeks can't even be quantified because most of the adult population doesn't even consider that a relationship. A fling, maybe. A dalliance, a "situation." But rarely a relationship. Call me when you actually get married, Emily and Jef, because that'll be newsworthy.
In Bachelorland, marriage is like the carrot on the end of the stick: always dangling in front of you, completely unattainable and, when you stop and think about it, not actually that appetizing. Only once has the Bachelor or Bachelorette actually married the person they handed that final rose to. Trista Réhn and Ryan Sutter remain the only couple to make it from the season's last episode to the altar. (Jason Mesnick and Molly Melaney are now happily married, but Mesnick picked Melissa Rycroft, not Melaney, in his season's finale.)
So, here's a proposal (the kind that doesn't come with a ring): How about we stop talking about the Bachelor couples' relationship rollercoasters, let them live their lives a little, and turn our attention to actual news? Let's focus on important things, like Amanda Bynes' latest car crash and Kim Kardashian's newest Twitter photo. 
Follow Abbey Stone on Twitter @abbeystone
[Photo Credit: Rick Rowell/ABC]
More:
Predicting The Next 'Bachelor': How ABC Makes Its Decision
'Bachelor Pad': Are Lindzi and Kalon Partners in Crime and in Bed?