Emma Stone Does Semi-Undressed Cool Girl Thing on Cover of 'W' — PHOTO
America's Super Cool Best Friend Emma Stone has amped up the edge for her W Magazine photo shoot with Juergen Teller. And boy, has Teller stayed true to his strung-out, Marc Jacobs model aesthetic. Stone graces the February cover complete with a serious case of the bedhead, minimal make-up, and a strapless bra — all washed in the light of a hotel that looks like it rents by the hour rather than the day.
But that's because Stone is one of those cool, down-for-whatever, don't-take-s**t-seriously type gals, so working with Teller was probably just a new experience. That said, we're usually fairly impressed with W's attempts to stay fresh and relevant, but we just can't get down on this one. Stone's cover feels a bit too amateur and hip, so it comes across as a bit disingenuous. We're all for Stone getting stripped down out of the Hollywood machine, but this might not be the way we'd go about it if we were suddenly made a stylist at W. Check out the cover, below, and see for yourself.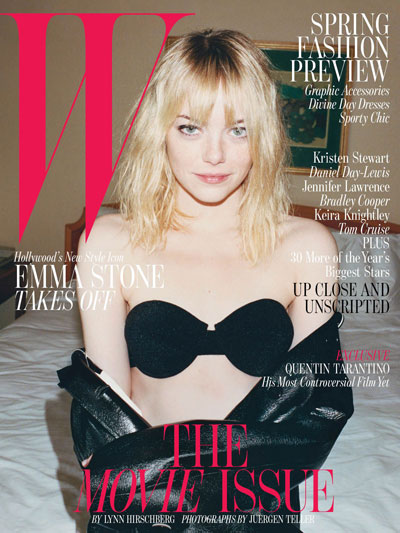 What do you think of Stone's W cover? Like it, love it, or hate it? Let us know in the comments!
[Photo Credit: W Magazine]
Follow Alicia on Twitter @alicialutes
More:
Emma Stone Will Sell Cocaine Out of Her 'Little White Corvette'
Late Night Last Night: Emma Stone and Jay Leno Dance the Night Away — VIDEO
Oscars 2013: Seth MacFarlane & Emma Stone to Announce Nominations, Please Everyone

Craziest Celebrity Swimsuits (Celebuzz)