Ernest Borgnine: Celebrity Fans & Friends React on Twitter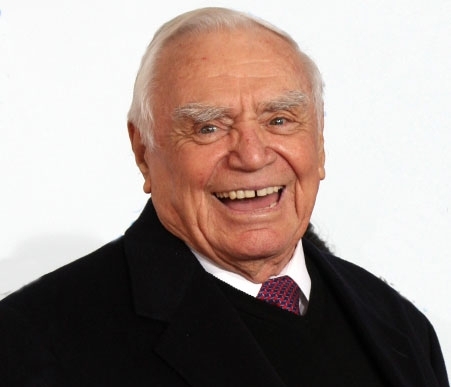 The iconic and lengthy career of Ernest Borgnine was and will always be the stuff of Hollywood dreams. The man never stopped and managed to create one of the more impressive resumes out there. So it's no surprise that when his death was announced on Sunday afternoon, that fans and friends alike came out in droves to commemorate the actor. Below are some of the highlights from those that paid tribute to this longstanding icon of stage and screens (big and small alike)! He worked in Hollywood for sixty years and always wanted to work more. They don't make 'em like they used to, you guys.
Rest in Peace… Ernest Borgnine! You were both gracious and full of grace.
— LeVar Burton (@levarburton) July 8, 2012
Ernest Borgnine talking about voicing Mermaid Man on Spongebob – what a lovely guy. RIP youtu.be/AsHhZ_bnpQg
— Peter Serafinowicz (@serafinowicz) July 8, 2012
dirty dozen, ice station zebra, best things in life r free, mchales navy, Poseidon adventure, willard, wild bunch, hannie caulderBorgnine
— Andrew Zimmern (@andrewzimmern) July 8, 2012
Rest in peace Ernest Borgnine. What a life. X
— James Corden (@JKCorden) July 8, 2012
God bless Ernest Borgnine. An amazingly strong spirit. R.I.P. Ernie
— Gary Sinise (@GarySinise) July 8, 2012
My dear frd Ernest Borgnine has passed at age 95. He was such a great Italian man, actor, Navy veteran, & father. Prayers 2 Nancee Borgnine
— Scott Baio (@ScottBaio) July 8, 2012
Ernest Borgnine, you will forever be a legend. Nobody has made me laugh so hard. RIP Ernie twitter.com/VerneTroyer/st…
— Verne Troyer (@VerneTroyer) July 8, 2012
Ernest Borgnine. Acting until the age of 95. "Whatta ya want to do tonight Marty?" RIP
— Dana Delany (@DanaDelany) July 8, 2012
Our sweet friend and neighbor Ernest Borgnine may you Rest in Peace!
— lisa rinna (@lisarinna) July 8, 2012
Ernest Borgnine has passed at 95. dld.bz/b8rVU
— Roger Ebert (@ebertchicago) July 8, 2012
Ernest Borgnine is dead. F#%k the world basically.
— Dave Hill (@mrdavehill) July 8, 2012
We lost another great guy today, Ernest Borgnine. My deepest condolences to his wife Tova and his family in this difficult time. -Barbara
— Barbara Eden (@Barbara_Eden) July 8, 2012
Ernest Borgnine. May he rest in peace MT @MarthaPlimpton: Marty (1955) – Final scene: youtu.be/k4lpdP7uKeAGreat, great performance.
— mia farrow (@MiaFarrow) July 8, 2012
Rest in Peace, Ernest Borgnine. #Marty
— Martha Plimpton (@MarthaPlimpton) July 8, 2012
More: