Evelyn Lozada Files for Divorce from Chad Ochocinco Johnson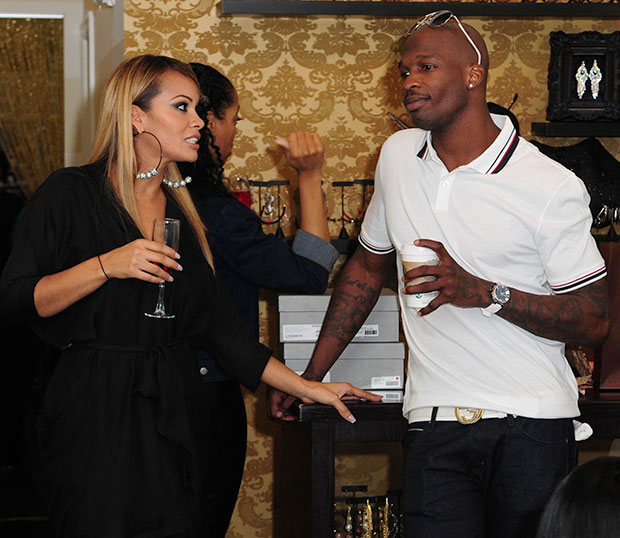 Enough is enough for Basketball Wives star Evelyn Lozada. After a tumultuous week — during which Hollywood.com confirmed that her husband, former Miami Dolphins receiver Chad Ochocinco Johnson, was arrested for domestic abuse on Saturday — Lozada filed for divorce in Florida on Tuesday, People.com reports.
The chain of events leading to Lozada's divorce proceedings began on Saturday, August 11, when Johnson was arrested for allegedly headbutting his wife. The Broward County Jail in Fort Lauderdale, Fla., confirmed for Hollywood.com that Johnson spent the night behind bars. Lozada, meanwhile, was taken to a nearby hospital and treated for a "pretty good sized" laceration, Captain Dale Engle of the Davie Police Department told NFL.com.
A day later, the Miami Dolphins released Johnson from his contract, CNN reports. VH1 soon followed suit, pulling the plug on Ev and Ocho, a reality show chronicling the couple's wedding preparations and their big day on June 4.
Johnson released a statement regarding his arrest and subsequent fallout with Lozada on his Web site. "I would like to apologize to everyone for the recent events that have occurred," he said. "I would like to wish Evelyn well and will never say anything bad about her because I truly love her to death. I will continue to be positive and train hard for another opportunity in the NFL. To all the fans and supporters I have disappointed, you have my sincerest apologies. I will stay positive and get through this tough period in my life."
But Johnson's apology is too little too late for Lozada. On Tuesday, just prior to filing for divorce, Lozada addressed her fans on Entertainment Tonight:"It is with great sadness and much trepidation that I release this statement addressing the domestic violence incident that happened this past Saturday. I am deeply disappointed that Chad has failed to take responsibility for his actions and made false accusations against me, it is my sincere hope that he seeks the help he needs to overcome his troubles. Domestic violence is not okay and hopefully my taking a stand will help encourage other women to break their silence as well. I'm grateful to my family, friends and fans for the outpouring of support during this difficult time."Neither Lozada's nor Johnson's reps have responded to Hollywood.com's requests for comment.
Follow Abbey Stone on Twitter @abbeystone
[Photo Credit: WENN.com]
More:
VH1 Cancels Chad Ochocinco and Evelyn Lozada's Reality Show After Abuse Allegations
Chad Ochocinco Thrown in Jail for Allegedly 'Headbutting' Wife Evelyn Lozada