Exclusive: How Snooki's Pregnancy "Changed Her Whole Life"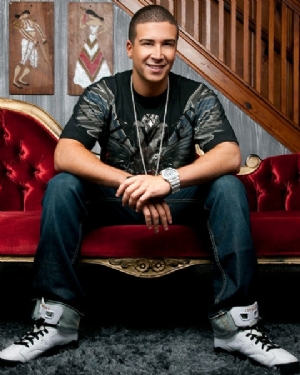 Between Snooki's shocking pregnancy and the Situation entering rehab, the Jersey Shore drama is is full swing, even though MTV's cameras aren't rolling. We caught up with Vinny Guadagnino at the GLAAD Media Awards and got an update on what's really going on with his castmates.
Despite concerns that Nicole Polizzi would have a hard time giving up her hard-partying lifestyle, Guadagnino says she's taken to pregnancy well. "She's awesome. It's changed her whole life," he tells Hollywood.com. "She doesn't drink any more, she's getting ready to be a mom!" This summer Polizzi will join the rest of the gang back at the shore house to film season six, and Guadagnino says he doesn't know how having the mom-to-be in tow will affect the dynamic. "I've never been around a pregnant woman before!" he laughed, "But however it is we'll make the best out of it."
And what about Mike Sorrentino's rehab stint? When asked if he had a problem while filming the show, Guadagnino said, "No, I don't really think so. If he did I didn't know," adding that he wishes him well.
Guadagnino is keeping busy too, though the changes in his life have been less dramatic. In addition to taking acting classes, he just released the book Control the Crazy: My Plan to Stop Stressing, Avoid Drama, and Maintain Inner Cool, and is starting to think about life after Jersey Shore. "I just want to spread my career off into as many different things as I can," he said. "I'm a creative person. I like to write, I wrote a book. I like to act, I've been on scripted shows. I like MTV so maybe I could do something with them. I just want to keep it going and work on something they love."