Fall Out Boy Is Back! Let's Dance, Dance Like It's 2006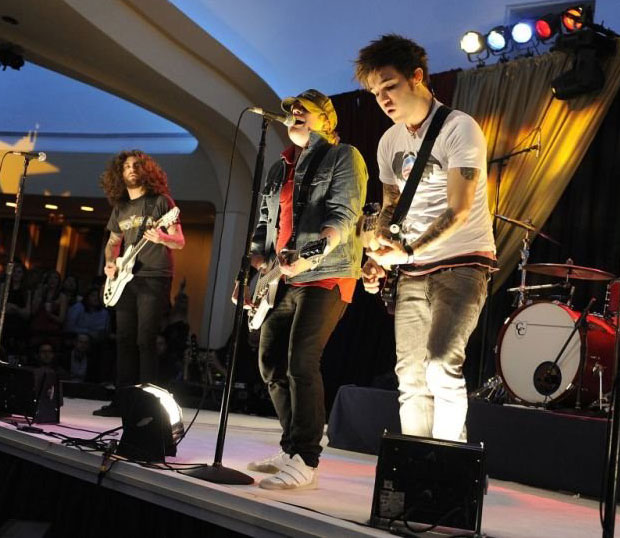 Break out that guy-liner, because Fall Out Boy is back! Just don't call it a reunion.
The pop/punk band announced on Monday that they are releasing a brand new studio album, Save Rock and Roll, as well as heading out on a national tour. "'My Songs Know What You Did in the Dark (Light Em Up)' is the first single from Fall Out Boy's new album, Save Rock and Roll, which will be released globally on May 6/7, 2013, the 10th anniversary of Fall Out Boy's first full-length studio album in 2003, Take This To Your Grave," a press release Monday said.
RELATED: Fall Out Boy, 'Folie a Deux'
This will be the first time FOB released new music since Pete Wentz and Patrick Stump announced in 2010 that they were taking a break from the band. But, while the new album and tour may seem like a reunion to fans, the band remains adamant that they never officially broke up.
"As far as I know, Fall Out Boy is on break," Wentz said at the time of the break. He later tweeted, "A hiatus is forever until you get lonely or old, [and] I don't plan on either."
Stump, meanwhile, said he had left the group and wouldn't be back until something changed in "my head or my heart – not my wallet." Well, looks like something did change in his head or his heart (or maybe his wallet?) since FOB is making new music!
"When we were kids the only thing that got us through most days was music. It's why we started Fall Out Boy in the first place," the group said in a statement. "This isn't a reunion because we never broke up. We needed to plug back in and make some music that matters to us. The future of Fall Out Boy starts now. Save Rock And Roll…"
RELATED: Fall Out Boy Photo Gallery
The band will also play three intimate club dates to kick off the Save Rock and Roll tour, starting Monday night in Chicago at Subterranean, Tuesday night in New York City at Webster Hall Studio, and Thursday night in Los Angeles at the Roxy. The nationwide tour then begins May 14 in Milwaukee, Wis. Tour dates will be announced at a later date. So time to reapply your black eye-liner (guys, you too!), put those skinny jeans back on (sag the butt, of course), and let's party like it's 2006!
[Photo Credit: Wenn]
Follow Sydney on Twitter @SydneyBucksbaum
---
You Might Also Like:

Biden? Ford? Surprisingly Hot Young Pics of Politicians

Who Wore This Crazy Hat?

Stars Who Changed Their Look After Love