5 Pop 'Supergroups' That Could Form In The Wake Of McBusted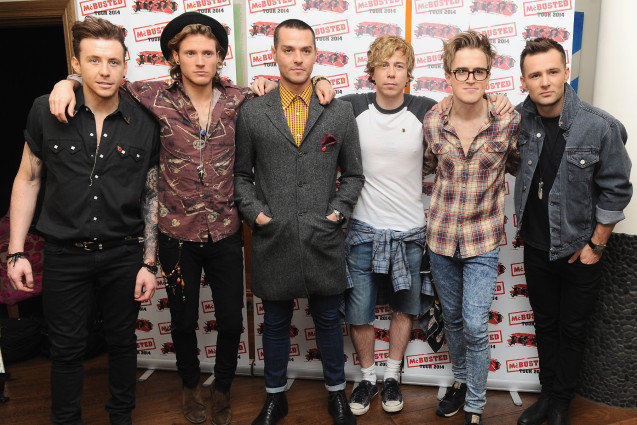 Ferdaus Shamim/Getty
With original member Charlie Simpson still refusing to go back to his boyband-with-guitars days now that he's a semi-credible singer-songwriter, Matt Willis and James Bourne, aka the remaining members of mid-'00s UK chart-toppers Busted, have now instead hooked up with the group they undoubtedly paved the way for, McFly, for the latest big pop reunion tour. But which other pop acts could realistically join forces to form in the wake of the newest 'supergroup' McBusted. Here's a look at five potential ideas.
It's unlikely that Beyoncé will ever wish to share the limelight with her former Destiny's Child bandmates for more than a few minutes, a la the Super Bowl, ever again. But there's nothing to stop Kelly and Michelle hooking up with T-Boz and Chilli to create the ultimate 90s R&B girlband crossover.
Sugababes Versions 1-4
The recent reunion of Mutya Keisha Siobhan, the original line-up of the ever-revolving Sugababes, hasn't exactly been a roaring success, while the latest line-up of Jade, Heidi and Amelle has been missing in action ever since 2011. But with a decade of hook-laden hits between them, a show featuring the four various line-ups would undoubtedly reignite both parties' careers.
BSBNSYNC
Backstreet Boys have already embraced the supergroup concept having toured and recorded with New Kids On The Block. And while Justin Timberlake is too much of a superstar to revisit his teen-pop past for more than a quick MTV VMA medley, the other four members would surely be open to hooking up with their old rivals for a feast of late '90s/early '00s boyband pop.
S Club 15
The term 'supergroup' might be pushing it here but it would certainly be interesting to see one of the biggest pop groups of the early '00s, S Club 7, team up with the eight members of their mini-me spin-off S Club Juniors – two of which are now in The Saturdays – for a massive S Club Party.
Boyzone/Westlife
They would possibly be the dreariest pop 'supergroup' of all time, but fans of karaoke covers and 'stand up for the key change' ballads would be in pop heaven if Irish boyband Boyzone and their recently-defunct successors Westlife decided to pool their coma-inducing resources together.
Follow @Hollywood_com