Song Titles That Blow Their Own Trumpets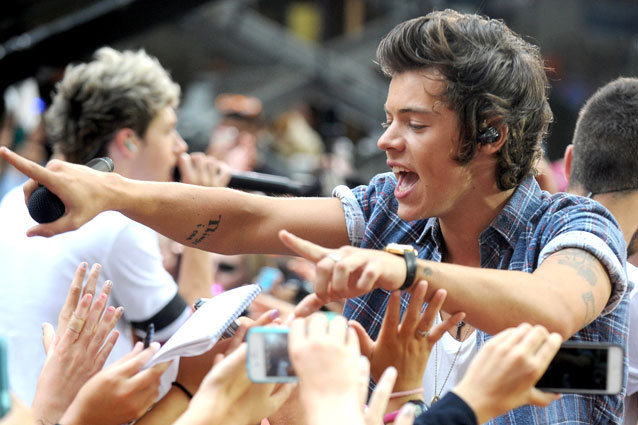 WENN
From record-breaking X-Factor finalists to obscure indie-rockers, here's a look at five song titles which aren't exactly short on confidence.
One Direction – "Best Song Ever"
The inescapable One Direction appeared to be setting themselves up for one mighty fall when they announced the name of their current single. However, the horrendously tattooed boyband were in fact referring to a song that they danced to with a girl but promptly forgot and not their own "Baba O'Riley"-borrowing track.
The Tamperer featuring Maya – "If You Buy This Record, Your Life Will Be Better"
After scoring a UK number one hit with "Feel It," Italian dance outfit The Tamperer resorted to the kind of wild claims you'd expect from a spiritual charlatan in an effort to repeat its success with the follow-up. The number of people whose life benefitted from buying an unashamedly camp Madonna-sampling slice of disco-pop is still unknown.
Sparks – "The Number One Song In Heaven"
Never exactly the most shy and retiring act at the best of times, oddball duo Ron and Russell Mael took their self-belief to new heights in 1979 by claiming that this Giorgio Moroder-produced single was at the top of the hit parade in the promised land. The best it managed in this world was No.5 in Ireland.
Beth J – "The Greatest Song Ever Written"
Uploaded onto YouTube by Beth J, "The Greatest Song Ever Written" is a tongue-in-cheek celebration of the same four chords which can be found in a multitude of pop hits ranging from the sublime (TLC's "No Scrubs") to the ridiculous (Rebecca Black's "Friday").
Does It Offend You, Yeah? – "Epic Last Song"
Acknowledging the unwritten golden rule that an album's final track must be the most epic, British dance-punk outfit Does It Offend You, Yeah? ramped up their anthemic tendencies to live up to the title of the closer from 2008 debut You Have No Idea What You're Getting Yourself Into.
More
5 Albums That Sound Like Fall
Top 5 Teen Drama Theme Songs
5 Great Teenage Dirtbag Anthems
---
From Our Partners:


40 Most Revealing See-Through Red Carpet Looks (Vh1)


15 Stars Share Secrets of their Sex Lives (Celebuzz)