You're So Vain, You Probably Think This Song Is About You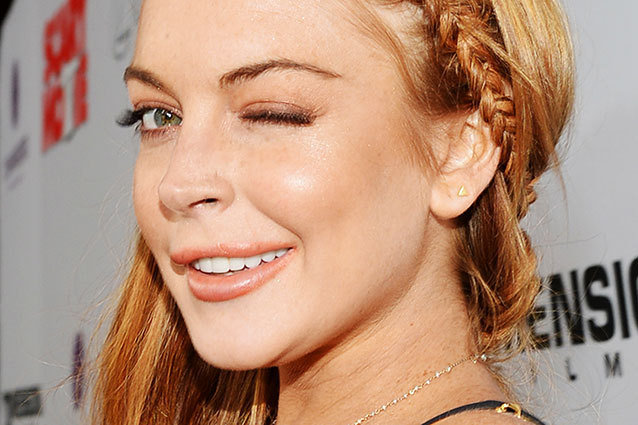 Michael Buckner/Getty Images
While most people scoffed when The Canyons director Paul Schrader compared its troubled star Lindsay Lohan to silver screen goddess Marilyn Monroe, they do have at least one thing in common – they've both been immortalised in song by Sir Elton John. Indeed, exactly 30 years after he penned "Candle In The Wind" as a tribute to the original Blonde Bombshell, the Rocket Man revealed this week that the closing title track from his new 31st studio album, The Diving Board, was based on watching the Mean Girls star's descent from talented actress to car-crash TMZ regular. Here's a look at five other songs that have been inspired by celebrities.
Alanis Morissette – "You Oughta Know"
A tour-de-force of angst-ridden alt-rock, "You Oughta Know" transformed the Canadian from a Tiffany-esque teen pop mall queen to the world's biggest banshee. But few would have expected the subject of her fury to have been such an unassuming figure as Uncle Joey from Full House. Despite his initial denials, Dave Coulier finally admitted in 2008 that he was in fact the man who stamped on Morissette's heart after they dated in the early '90s.
Madonna – "Miles Away"
Best-known for possibly the most tacky album cover of all time and a bandwagon jumping collaboration with Timbaland & Timberlake, Madonna's much-maligned 2008 release, Hard Candy, wasn't always so contrived. Indeed, this gorgeously melancholic electro-ballad was possibly one of the most honest and autobiographical songs of the Material Girl's career as she poured her heart out over the hardships of maintaining a long-distance relationship with now ex-husband Guy Ritchie.
Carly Simon – "You're So Vain"
Long before Taylor Swift turned the concept of 'blind gossip' into an art form, singer-songwriter Carly Simon got all the tabloids talking when she assassinated a former boyfriend's character on "You're So Vain." Mick Jagger, Warren Beatty and James Taylor's names have all been thrown into the ring as possible suspects. But only Simon and the man who paid $50,000 to discover the answer back in 2003 appears to really know who the guilty party is.
R.E.M. – "Man On The Moon"
Seven years before they wrote "The Great Beyond" for the Jim Carrey-starring biopic of the same name, R.E.M. paid tribute to the late cult comedian Andy Kaufmann with this enduring hit from Automatic For The People. Referencing everything from the Taxi star's flawless Elvis impersonation to his work with wrestlers Fred Blassie and Jerry Lawler, the track was named so due to the moon-landing style conspiracy theories surrounding his 1984 death.
Annie – "Me Plus One"
Taken from her 2004 debut, Anniemal, "Me Plus One" saw Norwegian starlet Annie narrate the real-life moment when Geri Halliwell locked herself in a car with producer Richard X after discovering that he'd given the song she desperately wanted to record to former S Club 7 member Rachel Stevens instead. Also sampling the barks of the former Spice Girl's dog Harry, this insanely catchy slice of electropop undoubtedly ranks as one of the more bizarre celebrity odes.
More
Kanye West – Financial Advisor
Keep The Day Job: Dylan Pastels At The National Portrait Gallery
Unexpected Music Star Reinventions
---
From Our Partners:


40 Most Revealing See-Through Red Carpet Looks (Vh1)


15 Stars Share Secrets of their Sex Lives (Celebuzz)