Flava Flav Arrested on Felony Charge of Assault With a Deadly Weapon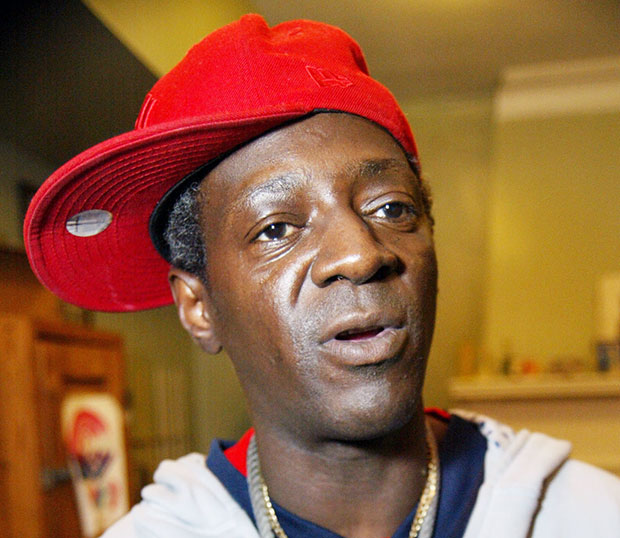 9-1-1 is not a joke, and neither is threatening your fiancée with a deadly weapon. Unfortunately, rapper and entertainer Flava Flav had to learn this the hard way. Flava Flav, whose real name is William Drayton, was arrested in Las Vegas early Wednesday morning after his fiancée, Liz Trujillo, made a call to the police.
The Las Vegas Metropolitan Police Department issued a statement to Hollywood.com that reads, "At approximately 3:30 this morning  the Las Vegas Metropolitan Police Department received a call of a domestic disturbance occurring at a residence in the 7800 block of Via Ventura Court.  The caller advised she had been involved in a physical altercation with her fiancé who was identified as William Drayton. It was also reported that after the physical altercation, Drayton had threatened his fiance's teenage son with a knife."
The statement continues, "After an investigation, Drayton was arrested and charged with Battery Domestic Violence and Assault with a Deadly Weapon."
Flav, whom TMZ reports was bailed out of jail for $23,000 just before 11:30 AM PT Wednesday morning, has a court appearance scheduled for Thursday.
Follow Abbey Stone on Twitter @abbeystone
[Photo Credit: AAR/FameFlynet Pictures]
More:
Amanda Bynes Pleads Not Guilty, Blows Off Court
Guns and Drugs Found on Rapper Nelly's Tour Bus
Fiona Apple Makes Bizarre Statement After Arrest
From Our Partners:

'Twilight' Star Kristen Stewart Drops 2.2M on L.A. Home Near Robert Pattinson — PHOTOS
(Celebuzz)

Rihanna to Earn $8 Million for Turning on Christmas Lights: 14 Celebrity Appearance Fees Revealed
(Celebuzz)