Former Co-Stars Heat Things Up Off-Screen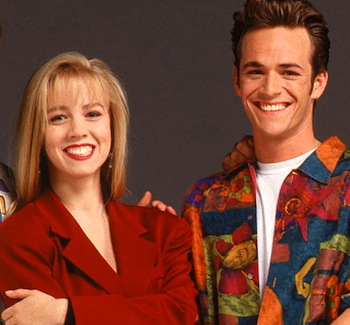 When the rumor mill started churning with news of '90s on-screen super couple Jennie Garth and Luke Perry finding real-life love while filming their Old Navy TV spot, we couldn't believe our ears. Turns out, the gossip was indeed too good to be true; the two were spending a lot of time together because they are working on a new TV show, not an off-screen relationship.
Seeing these two together got us to thinking, though (a dangerous pastime, I know). How many Hollywood couples that we know and love today actually started out as co-stars? We're not talking about the crazy kids who met on set, started dating immediately, and lived happily ever after (or not). We're talking about the ones who met on set, remained friends — or forgot about one another entirely — for a few years, and then started dating. It's Hollywood's version of a long-lost love.
Turns out, there are quite a few. We all know about the steamy start to Brad Pitt and Angelina Jolie's relationship, but did you know that Tom Hanks and Rita Wilson met on a TV set years before they became a couple? Head to our gallery for the full list, and add any more you can think of to the comments!
Gallery: Former Co-stars Who Rekindled the Flame Off-Screen
Follow Abbey Stone on Twitter @abbeystone
[Photo Credit: Albert L. Ortega/WireImage]
More:
Pop (Culture) a Squat: 11 Chairs Clint Eastwood Could Talk To
Before They Were Hot: The Most Embarrassing Celebrity Yearbook Photos
Kelly and Dylan Back Together on TV: Five Other '90s Pairings That Need to Follow