Former WWE Superstars We'd Love To See Once More at WrestleMania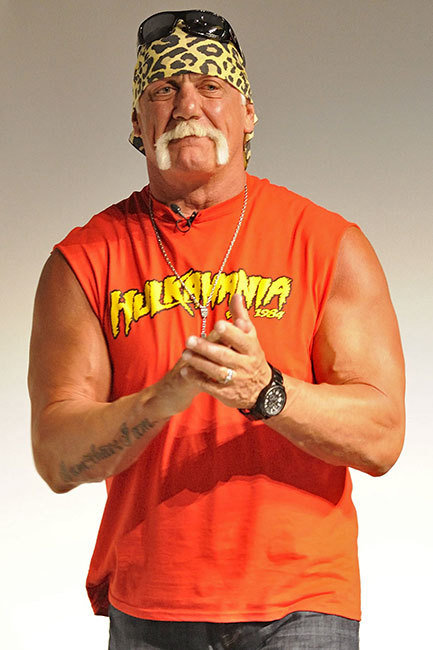 Dominic Chan/WENN
Listen up, brother! It looks as though Hulk Hogan – now 60-years-old with an artificial hip, bad back and shot knees – won't be climbing back into a WWE ring after all (and maybe fans truly are the better for it). According to reports, World Wrestling Entertainment officials were interested in bringing back the former champ in time for Wrestlemania XXX this coming April in New Orleans. Hogan, whose contract with the much-smaller TNA Wrestling recently expired, was rumored to possibly be in line for one more mega-match – maybe against John Cena. However, it now appears Hogan has re-upped with TNA after being offered far, far less from the WWE than he had hoped. Still, the WWE has other options, if a trip down memory lane is what it seeks to boost buyrates.
Jake the Snake Roberts
Jake's well-chronicled battles with substance abuse appear to be in check these days and he's looking to get back into the WWE. Could Mania provide that stage? He's also back in fighting shape thanks to DDP yoga.
Rowdy Roddy Piper
Although in nearly as bad of shape physically as Hogan, Piper has always been able to pop a crowd with his mouth alone. Could the man who was rowdy before rowdy was cool give the fans one more memorable match?
Stone Cold Steve Austin
Arguably the biggest star of the '90s in all of wrestling, Austin says he's physically fine to go 100 percent inside the squared circle again – he just chooses not to. The WWE would surely love to have the Texas Rattlesnake back (even once more) as would the fans.
Iron Sheik and Nikolai Volkoff
Political correctness be darned – the site of Sheik and Volkoff inside a WWE ring one last time (if for nothing else than to sing the Soviet National Anthem) would surely be a Wrestlemania moment for the ages.
Honky Tonk Man
Do you wanna hear see the Honky Tonk Man sing? Do you wanna see the Honky Tonk Man dance? Heck yes! HTM's farewell tour should be on a WWE stage – not some bingo hall in the middle of nowhere.