Why Can't We Admit Frank Ocean's Performance Was Bad?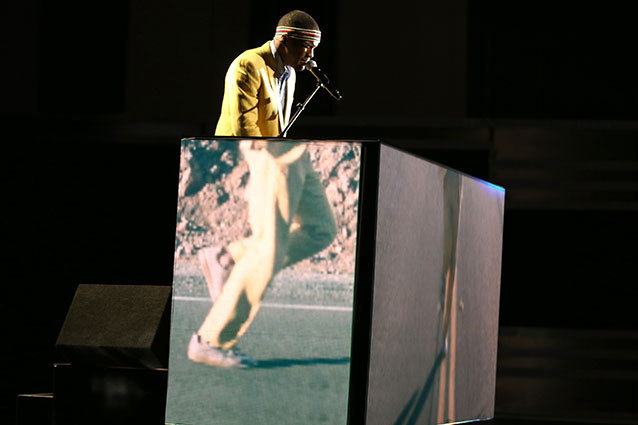 When Taylor Swift channeled the White Rabbit's worst nightmare on the 2013 Grammys stage, the Internet wondered what kind of "Drink Me" potion would have convinced her the performance was a good idea. And when host LL Cool J bizarrly performed at the close the show, doing a throwback we missed about as much as water beds, Twitter blew up with enough negative hashtags to scare CBS away from the social medium for good.
But when Frank Ocean took the stage for a performance of "Forrest Gump" complete with enough off-key runs to immediately land him on worst lists everywhere, Twitter fell silent. No one jumped up to herald the performance as the best of the night, but certainly no one dared to label it what it was: the most disappointing performance at the Grammys.
RELATED: Best and Worst Grammys 2013 Performances
"I enjoyed the visuals," Carly Blitz, a 25-year-old fan from Boulder, Colo., says. "It was clear he was in touch with the song that he was singing. But pitch-wise, it was off. Everyone could hear that. You don't have to be a singer to know he was flat."
Indeed, let's first give credit where credit's due: Vocals aside, "Forrest Gump" — the single off his first album, Channel Orange, that first made fans and the industry aware of Ocean's sexual orientation — was a moving Grammys debut for the tide-changing Ocean. The hypnotic video backdrop, Ocean's quiet connection to his game-changing lyrics — perhaps viewers were so captivated by the sharp R&B artist, they didn't care about his flat approach to every note. But whether we can blame nerves, shoddy audio, or acoustics (and we have to blame one of those, since we've seen Ocean perform beautifully live in the past), there's no denying Ocean's much-anticipated Grammys debut sunk. (UPDATE: A possible answer to Ocean's flat performance? Tweets the singer, "i had fun last night. couldn't hear my keyboards during Forrest. kinda bummed about that. by my moms was proud. she's tight. i'm grateful.")
So why did the millions of non-singers tuning into the performance fail to give Ocean the same harsh treatment as some of the night's other high-wattage stars who gave dim performances? Quite simply, because we're rooting too much for Ocean to admit he was bad. After all, we're talking about an artist who changed the R&B genre's dated perception of homosexuals the day he publicly came out in a Tumblr post in July after the release of "Forrest Gump." (Not to mention all the hero points that come from fighting the much-reviled Chris Brown.)
"Up until this point, it's been hard for people to criticize Frank Ocean," says Alex Suskind, a 27-year-old fan from Brooklyn, N.Y., who admits he went "Twitter silent" during the performance. "He's done everything to make people love him. He's an unsung hero for people, especially with the Tumblr message about his sexuality. I think that's sort of the reason we feel bad [criticizing him]."
RELATED: Holy Sideboob! 10 Grammys Looks That Broke CBS' Rules
But is it fair to place Ocean on a different scale than other artists? If the critically acclaimed Channel Orange proved non-heterosexual R&B artists can and should be placed on the same talent and success scale as their hetero brethren, shouldn't we be willing to place a bad Ocean performance on the same scale as other bad performances? Shouldn't we be more inclined to admit that Ocean can have an off-night, just like the rest of the music industry?
"You have to say he's bad when he's bad, but it's good to say he is talented enough that this one bad performance isn't going to torpedo his career by any means," Suskind says. "He has plenty of room to grow."
And the reason Twitter and Facebook went mum during Ocean's performance could have little to do with his revelation last summer. Instead, it could be simply difficult to knock Ocean while he's singing a song with which he has such an emotional connection (much to the chagrin of some fans who preferred he would have sung his less controversial hit "Pyramids").
"He was putting his heart on the line, so you feel bad thinking it was bad and judging him on the singing when he was putting it all out there," Blitz says. "[But] there were parts of it that worked for him because you could tell it was so emotional for him, so that rawness didn't bother me as much."
But the song choice might have been Ocean's problem. One fan, Willie Mack, a New York native in his 30s, says Ocean's unwillingness to directly broach the subject of his sexuality outside of his Tumblr post was far too at odds with his "insular" "Forrest Gump" performance, which he considers a wasted opportunity to gain new fans. "It's a great platform — why not show the range of his talent?" Mack says. "There are other songs that would have been more fun, and we could move past this point. We get it: You're a musician and we like your music, and this is something that everybody's happy that you did and we're proud of you. But let's change the conversation — what's next?"
RELATED: Taylor Swift Sings Along to Every Grammys Song
And there are plenty who are waiting to see what's next for the singer. While Ocean might have been without pitch, he's not without fans who appreciate his work. In fact, many have attempted to boost the star's already meteoric rise after his performance, which, sadly, failed to drum up any iTunes support. (While Ocean's "Thinkin Bout You" was charting today at No. 52, "Forrest Gump" is no where to be found. The night's other performers, The Lumineers, Justin Timberlake, and Mumford & Sons, to name a few, are all rounding out the Top 10.)
Says Blitz about her friendly Grammys gathering, with one Ocean neophyte in tow, "[I told her] just listen to the album."
And based on Orange's No. 12 finish on iTunes' top albums, people are more than willing to listen, misstep be damned. 
Follow Kate on Twitter @HWKateWard
[Image Credit: Christopher Polk/Getty Images]
---
From Our Partners:

40 Hottest Celeb Twitpics of the Month (Vh1)

'Sports Illustrated' Swimsuit Issue: A Visual History (Celebuzz)