Frank Ocean's Stunning Performance on 'Late Night with Jimmy Fallon' — WATCH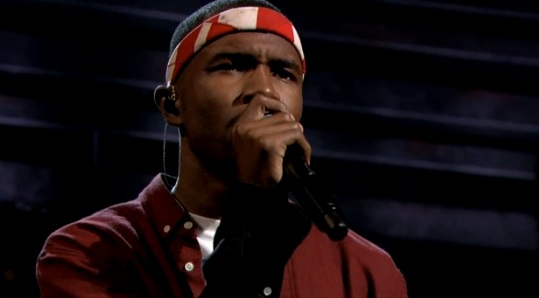 A star is reborn. Frank Ocean — whose humble but groundbreaking announcement that he is gay has earned the respect and support from many, including those in the music industry like Russell Simmons and Beyoncé (the superstar wrote a poem for Ocean on her website which read, "Be fearless / be honest / be generous / be brave / be poetic / be open / be free / be yourself / be in love / be happy / be inspiration") — had another monumental moment: his television debut. 
Just a few days after his personal revelation, Ocean appeared on
Late Night with Jimmy Fallon
on Monday night to perform the stunning, poignant "Bad Religion" off his debut album
Channel Orange
. While the album is slated for a July 17 release, anticipation to hear his latest work in the light of his bold and important decision to come out, the digital release was already made available on iTunes and his website as of early Tuesday morning. 
And if newfound interest in The Odd Future singer's music didn't already spike because of his personal life (Ocean is about to embark on a sold-out tour), his haunting performance on Fallon most certainly should have. With accompaniment from a string section and house band The Roots, Ocean's "Bad Religion," an ode to "unrequited love" not only showed off the 24-year-old's impressive vocal range, but his talent for writing thought-provoking, storytelling lyrics. 
Watch and be wowed here: 
Ocean tweeted a few hours after his visit to the show, "back in los angeles already. had fun on fallon. thanks to everybody that was a part of it. channel orange. channel orange. channel orange." Got that? 
More: Frank Ocean's Album Drops a Week Early, Beyonce Voices Her Praises Frank Ocean Comes Out, Makes Waves with Tumblr LetterAnderson Cooper: 'The Fact Is, I'm Gay'