'Are You Being Served?' Star Frank Thornton Dies: He'll Always Be Capt. Peacock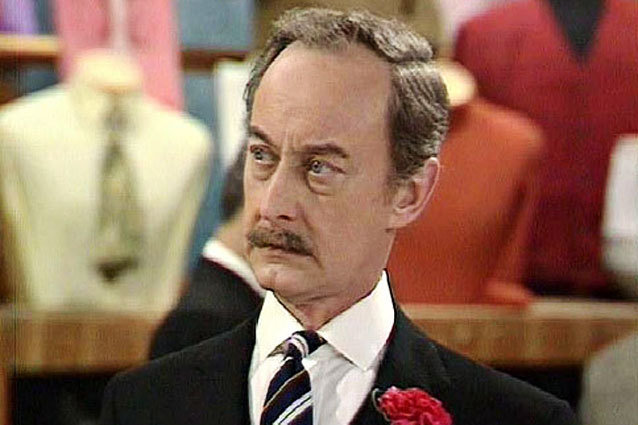 Grace Brothers Dept. Store and fans of British comedy the world over have suffered a loss today. 
Frank Thornton, one of the last surviving stars of the long-running BBC sitcom Are You Being Served? (a perpetual PBS favorite), died in his sleep Saturday morning in his London home. He was 92.
Fans on both of sides of the pond will forever know Thornton as Are You Being Served?'s Capt. Peacock, an imperious Grace Brothers floorwalker: a middle manager who greets customers, answers their questions, and directs them to the right department. Mustachioed, smartly dressed, and comically stiff as only a Brit born before World War II could be, Peacock was a standout on a show of standouts. Are You Being Served? was kind of like a blue-collar predecessor to The Office — it ran for 69 episodes from 1972-85 and spawned the short-lived sequel series Grace & Favour in 1993 —a comedy of workplace manners with a sprawling ensemble that was an early example of "awkward humor." Peacock was the straight man with a rod up his arse, the foil for more overtly comical actors Mollie Sugden, who played Ladies' Wear supervisor Mrs. Slocombe, and John Inman's flamboyant Men's Department assistant, Mr. Humphries.
Thornton's Peacock was the ultimate British poseur, someone who claimed to fight in the North African campaign of World War II but really was in the Service Corp and never saw combat. Impossibly stuffy and starch-shirted, Capt. Peacock adopted airs above his station, and his storylines usually revolved around his feeble attempts to climb the Grace Brothers corporate ladder, even if it meant his dogged pursuit of something as minor as a key to the executive washroom.
Are You Being Served? looks ancient by today's standards: three-camera, filmed before an audience (or accompanied by an aggressive laugh-track), and relying largely on puns, not-so-subtle sexual innuendo, and a heavy dose of slapstick. Whole episodes are structured like a vaudeville joke, with a lengthy set-up to a huge punchline at the end of each installment, often involving the Grace Brothers staff dressed in odd costume. You haven't lived until you've seen Frank Thornton in lederhosen.
But ancient though it may be, Are You Being Served? is still great. A whole new generation — nay, a whole new country — was introduced to its pleasures via PBS, which has been airing reruns of the show for literally decades as part of its weekend British comedy block.
With Thornton's death, the only surviving member of the original cast is Nicholas Smith, who played cauliflower-eared executive, Mr. Rumbold.
Follow Christian Blauvelt on Twitter @Ctblauvelt
[Photo Credit: BBC] 
---
You Might Also Like:


15 Oscar-Winning Nude Scenes


Young Jack Black Is Totally Unrecognizable