From Gabby Douglas to Ryan Lochte: Breakout Stars From Week 1 of the Olympics
Exactly one week ago today, the 2012 Summer Olympics kicked off in London with Danny Boyle's star-studded opening ceremony which featured the likes of Sir Paul McCartney, Daniel Craig, and a sky-diving Queen Elizabeth II. Of course, the real stars of the games were the ones walking in the Parade of Nations. Among the thousands of athletes who are competing in this year's games (as well as some particularly entertaining family members of the athletes competing in this year's games), some have stood out among the rest. 
While we knew we'd have some established Olympic heroes going in (
Michael Phelps
,
Misty May-Treanor
 among the lot), some of the most fun this week has been cheering on the breakout stars of the 2012 Summer Olympics. Just one week in and we've already got some bona fide super stars (welcome to our hearts,
Gabby Douglas
!) and meme-worthy celebrities (what did we do before you,
Ryan Lochte
?!). Here now are our 12 favorite breakout Olympians from the first week of the London games.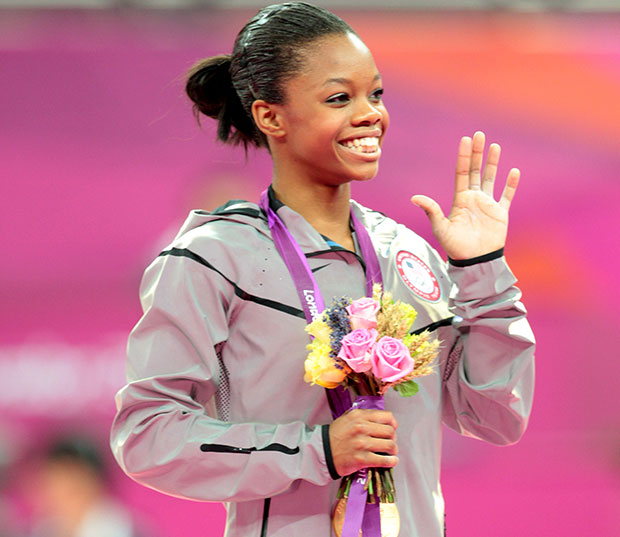 Gabby Douglas
The fabbest of the Fab/Fierce Five, 16-year-old wonder Gabby Douglas captured America's heart by becoming the first African-American woman in Olympics history to earn the women's gymnastics all-around title. With a nickname as adorable as she is (The Flying Squirrel!), a sunny disposition, awe-inspiring athleticism and winning spirit, this gold medal-winning gymnast embodies everything we love so much about the Olympics.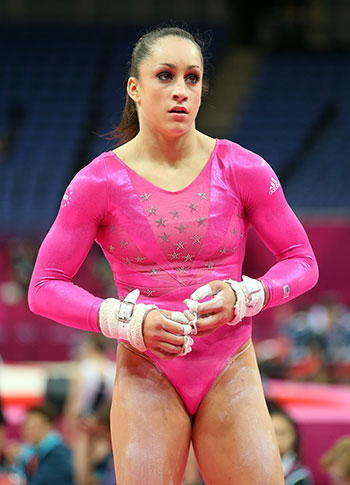 Jordyn Wieber
What's the Olympics without some tears? Jordyn Wieber's heart-wrenching drama unfolded on Sunday when the gymnast didn't qualify to compete in the all-around competition. Still, the 17-year-old became an instant star (who doesn't love a good underdog story… and, okay, someone with a hot brother) and the definition of dignity and class when she congratulated her teammates, including Gabby, to whom she tweeted, "Congrats @gabrielledoug! You are the Olympic all around champion and you deserve it girl!"
Aly Raisman's Parents
Sure, the Fab/Fierce Five were the stars on the floor, but in the stands it was all about Aly Raisman's hysterical, vocal parents Ricky Raisman and Lynn Raisman. Instantly becoming viral sensations, the animated, Bah-ston duo are a Saturday Night Live sketch waiting to happen. Let's go… watch their breakout moment again.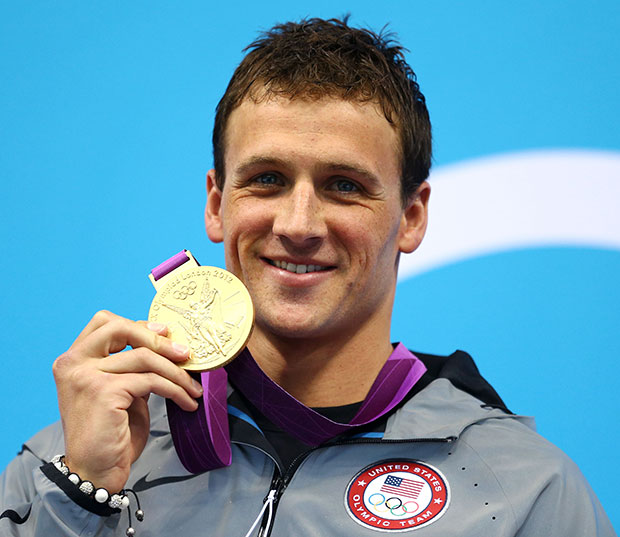 Ryan Lochte
Like the Kanye West of the swimming world, Ryan Lochte's immense talent in the pool is just as entertaining as his wildly outrageous persona outside of the pool. The 28-year-old won his first gold medal this week (he now has 11 career Olympic medals), an unforgettable feat for the athlete. Fans, on the other hand, will never be able to forget the grills, or the shoes, or unintentional hilarious interviews and tweets. Never change, Ryan Lochte.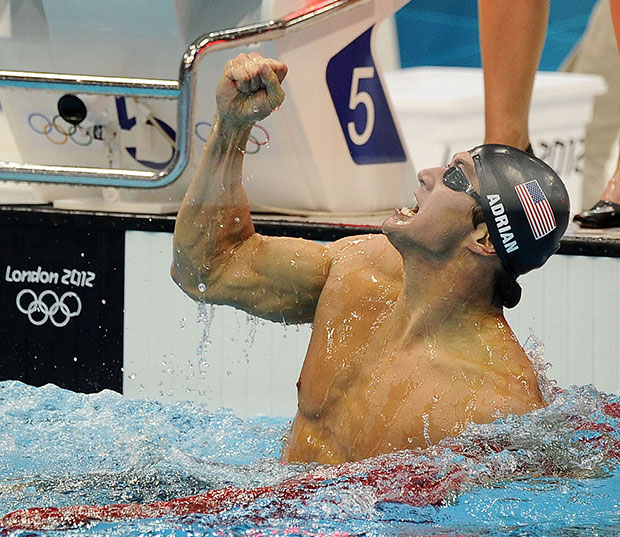 Nathan Adrian
There's plenty of room in the pool for more than one U.S. swimming hunk. (Hooray!) Even with spotlight-stealers like Lochte and Phelps around, 23-year-old Adrian stole our hearts (and got out heart rates going) by being a charming, adorable, fun, talented, adorable, and smart gold medal winner. Oh, did we mention adorable? Because he's totally adorable.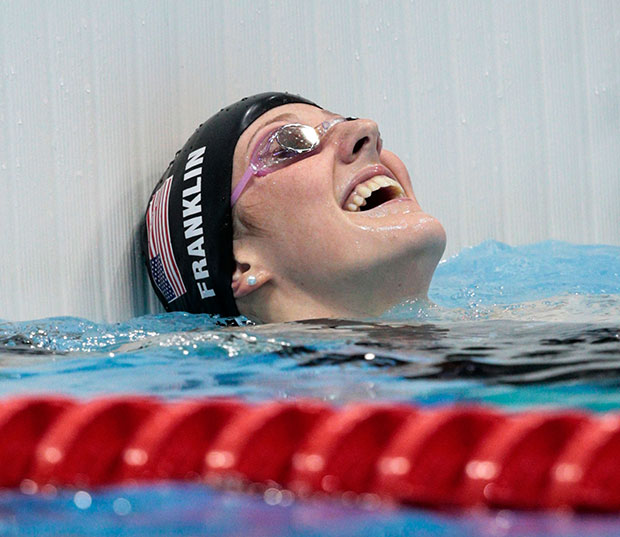 Missy Franklin
Spoiler alert: Missy Franklin is awesome! At just 17-years-old, Franklin is already a world-class, record-breaking (she crushed the previous 200-meter freestyle record) gold medal-winning athlete whose infectious smile and winning attitude gave girls everywhere a stunning new role model. Missile Missy rocketed to Olympics superstar and from the looks of things, there's no stopping her.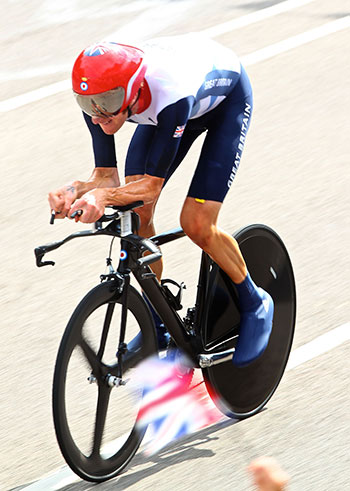 Bradley Wiggins
You've gotta love a hometown hero. Cyclist Bradley Wiggins, who helped kick off the opening ceremony by ringing the bell, has now become London's most decorated Olympian after his gold medal-winning race. The Tour de France tour de force won the gold medal in the men's individual time trial event, making him a seven-time Olympic winner. Well done, chum!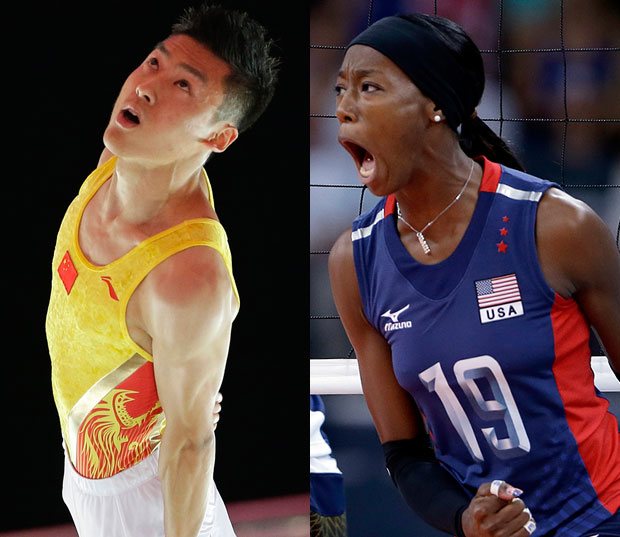 Dong Dong and Destinee Hooker
Because, come on… their names are Dong Dong and Destinee Hooker. No way was the Internet going to let that one slide. Still, they're the ones having the last laugh: Dong earned trampoline gold for China and Hooker is destined to bring the U.S. women's volleyball team the gold.
Who's been your favorite breakout star so far in the 2012 Olympics? Who do you think will make a splash in Week 2 of the games? Sound off in the comments section!
[Photo Credits: Doulas: AP Photo; Wieber: Getty Images; Lochte: Getty Images; Adrian: WENN.com; Franklin: Getty Images; Wiggins: WENN.com; Dong/Hooker: AP Photo]
MORE:
Olympics Round-Up: Missy Franklin Nabs First Gold, Britain Gets Bronzed
Olympics Round-Up: Lochte Beats Phelps, Archers Take Aim at Silver
Olympics Round-Up: Gabby Douglas and Other Team USA Dominations