From President Obama to the NFL: Most Moving Celebrity Newtown Tributes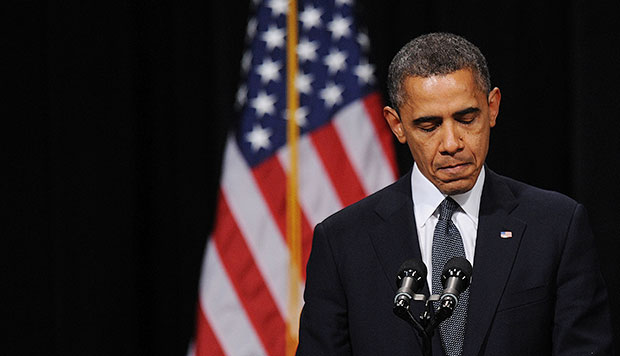 On Sunday night, President Obama addressed the grieving town of Newtown, Conn., and the nation as a whole at a prayer vigil for the 26 innocent children and teachers who lost their lives during Friday's tragedy. "I am very mindful that words cannot match the depths of your sorrow. But whatever measure of comfort we can provide, we will provide. … Newtown, you are not alone," Obama began from behind a podium at Newtown High School.
What followed was an 18-minute-long speech that will not soon be forgotten. While Obama touched briefly on the political implications of the tragedy — and necessity for change — he focused mostly on great loss our nation has suffered. To close, Obama read off the names of the 20 children who lost their lives on Friday.
Below is a video of Obama's stirring words:
In the wake of Friday's horrific events, other celebrities and media outlets have shown an outpouring of support for the victims' families, each in their own unique way.
Saturday Night Live's Cherubic Choir
On Saturday night, the sketch comedy show opened with a quiet tribute to the previous day's events: a children's choir softly sang the hymn "Silent Night."
Mister Rogers' Wise Words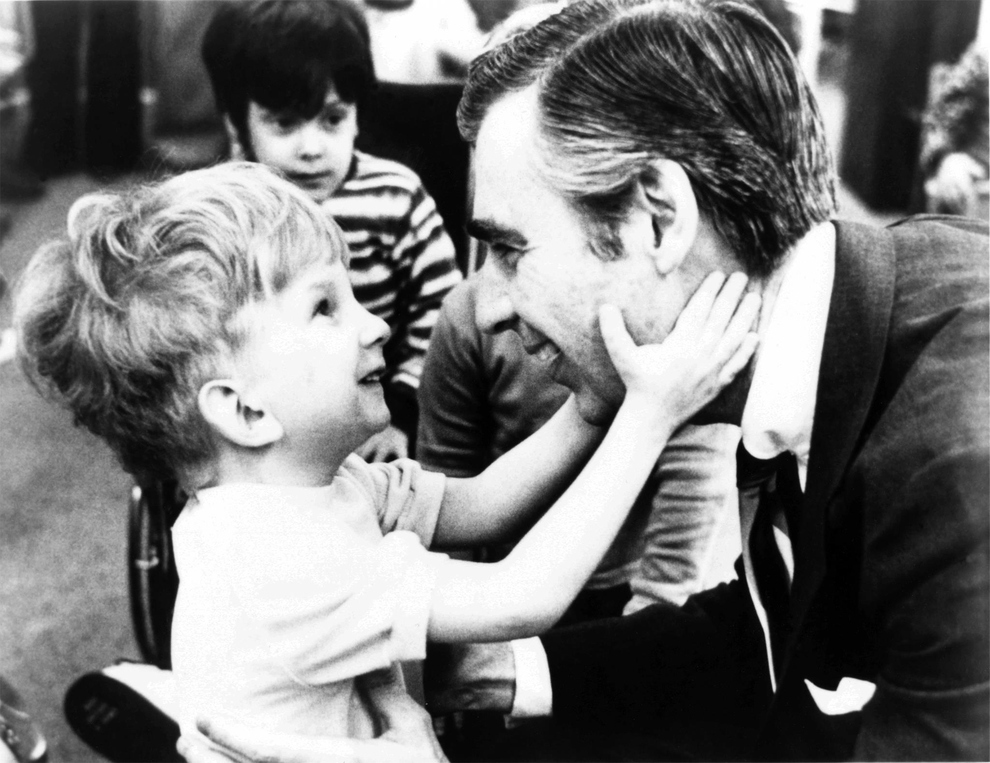 While Fred Rogers, the creator and star of PBS' long-running children's series Mister Rogers' Neighborhood passed away in 2003, Buzzfeed resurrected his words on Saturday to inspire hope. He said:
When I was a boy and I would see scary things in the news, my mother would say to me, "Look for the helpers. You will always find people who are helping." To this day, especially in times of disaster, I remember my mother's words, and I am always comforted by realizing that there are still so many helpers — so many caring people in this world.The NFL Observes a Moment of Silence
On Sunday, the NFL requested that teams hold a moment of silence before each game. In addition, the New England Patriots sent up 26 flares, one at a time, to represent those who lost their lives.
Kevin Durant's Custom Shoes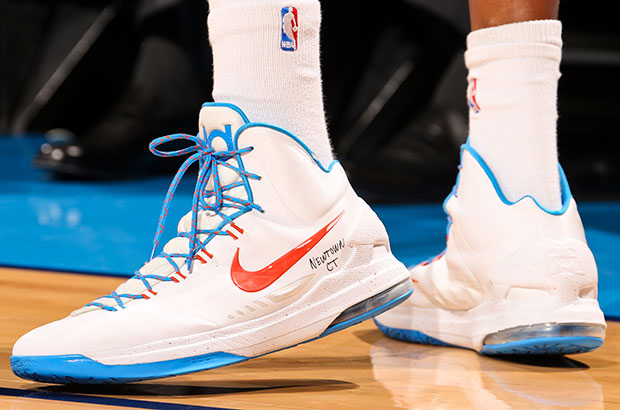 The Oklahoma City Thunder's star player Kevin Durant wrote "Newtown, CT" on his shoes for his Saturday game against the Sacramento Kings. 
Survivor Pauses to Reflect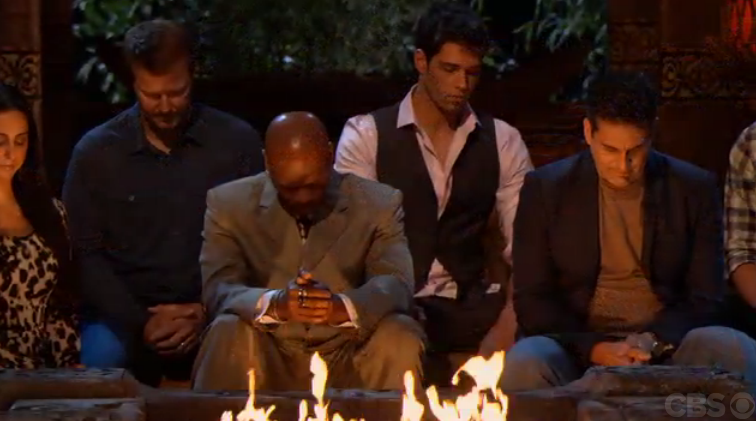 Survivor host Jeff Probst asked that everyone present at Sunday's live finale observe a moment of silence before announcing the season's winner.
Michael Ian Black's Personal Perspective
On his blog, comedian Michael Ian Black, who lives in Conn. with his wife and children, recounted his own personal tale of the day's events. He writes: Before she went to bed, my daughter asked my wife if it had been especially windy outside today. "I don't think so," my wife said, "Why do you ask?" "Oh, because it looked really nice out but the teachers said there was a storm so we couldn't have outdoor recess."
My wife and I held each other for a long time in bed this morning and after a while, our daughter got in bed with us, too.
It's a bright, sunny day here in the wilds of Connecticut where I live, a perfect December day. That's what I call it when people ask me where I live – "the wilds of Connecticut" – because Connecticut, while rural, is a manicured wilderness. The gravest danger any of us normally face is hitting a deer while driving.Blossom Star Jenna Von Oy's People Blog Post
Like Black, Von Oy has a personal connection to Newtown — she grew up there and her family still resides there. In a moving essay published on People.com, Von Oy expresses her profound sorrow for Friday's events as well as her confidence that the strong people who live there will be able to rise above this tragedy. She writes, "I know, with absolute certainty, the residents of Newtown will rise up with love and strength in the face of their suffering. When you think of my hometown, I hope you'll think beyond this moment in its history."
Mike Posner Writes a Song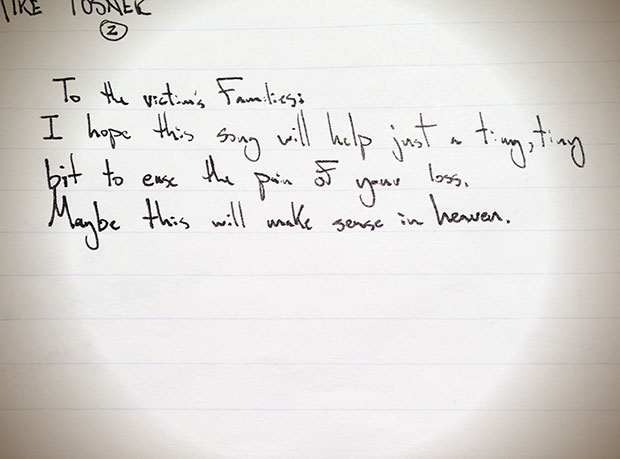 Michigan-born music artist Mike Posner expressed his grief for the tragedy to befall Newtown by penning a soft, touching song titled "Heaven," and the above accompanying note that he posted on Instagram. The 24-year-old R&B singer/songwriter dedicated his song in a brief spoken introduction to the families of the tragedy. Posner's ballad strives to both illustrate the devastating pain undertaken by those who lost loved ones, and to highlight his belief that despite these sorts of horrors, there still is good in the world.
"Heaven" – Mike Posner
Follow Abbey Stone on Twitter @abbeystone
[Photo Credit: Getty (2), PBS, CBS, Instagram]
More:
'Saturday Night Live' Quietly Addresses Sandy Hook: Watch the Touching Tribute — VIDEO
'Saturday Night Live': Should Series Address Sandy Hook Tragedy?
Tom Cruise Premiere Postponed Due to School Shooting

'The Hobbit' Cast: A Who's Who New Character Guide (Moviefone)

'Les Miserables' Unscripted: Hugh Jackman, Anne Hathaway On Singing And Being Modest