Home
Celebrities
Gabby Douglas: The First African-American Woman to Win All-Around
Gabby Douglas: The First African-American Woman to Win All-Around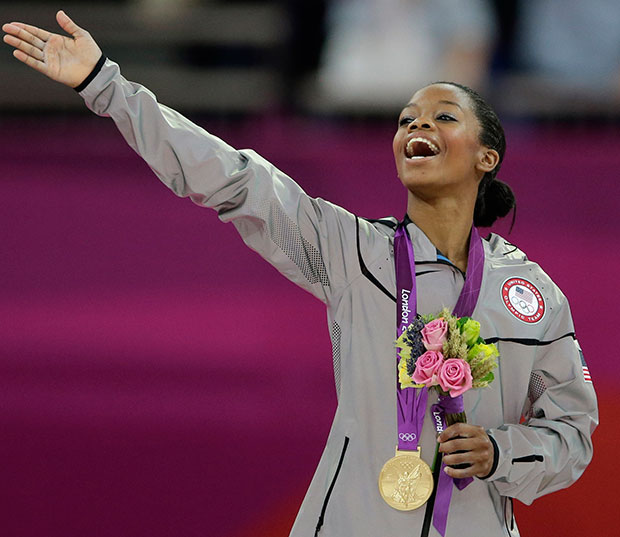 Thursday was a big day for Team USA gymnast Gabrielle Douglas. Not only did she receive her second gold medal, but she became the first ever African-American woman to be earn the women's gymnastics all-around title. Yes, that's correct. Our little 16-year-old wonder flew across the big Atlantic ocean to kick some international butt in our former motherland of Great Britain. She has done not only the United States of America proud, but has done something that will go down the history books. Our children and their children will be reading about Mrs. Douglas for many generations to come.
So to prepare out children for their future history lesson, and also to fill our curious minds, we decided to take a look into the life of Douglas. Here are eight interesting facts that you probably didn't know about this American superstar:
1. Douglas' nickname is Flying Squirrel. It was given to her by Martha Karolyi, the National Team Coordinator for USA Gymnastics. And the fact that she's awesome on the uneven bars probably has something to do with it.
2. Douglas was just a wee little one when she started preparing to become champion of the world… well, champion of the 2012 USA Women's Olympics Team. She began training at the age of six.
3. Douglas has her sister to thank for all of her success. If it weren't for her older sister Arielle convincing their mother to enroll Gabby in classes, Thursday's epic event would never have been possible.
4. This isn't the first time that Douglas has won an all-around title. When she was just eight years old, Douglas won an all-around gymnastics award in the Virginia State Championships in 2004.
5. Seriously committed. At 14, Douglas left her family in Virginia to move across the country to live with a host family in Iowa. This move allowed her to start training with the famous Liang Chow, who had trained Olympic/World Champion Shawn Johnson.
6. During her national debut at the 2010 Nastia Liukin SuperGirl Cup, Douglas placed fourth all-around at level 10. That's pretty damned good.
7. Douglas got her first Olympic gold medal at just 16 years of age, when Team USA wone the team gold medal at the 2012 Summer Olympics on July 31.
8. Douglas has already been on a magazine cover. On July 20, her face was one of five to be featured on different covers of Time magazine. She has also be on the cover of Sports Illustrated along with her teammates.
Follow Lindsey on Twitter @LDiMat.
[Photo Credit: Gregory Bull/AP Photo]
More:
Suri Cruise Plays Dress-Up in Multiple Princess Costumes — PICS