Gabrielle Giffords Smiling and Healthy on Cruise Ship — EXCLUSIVE PIC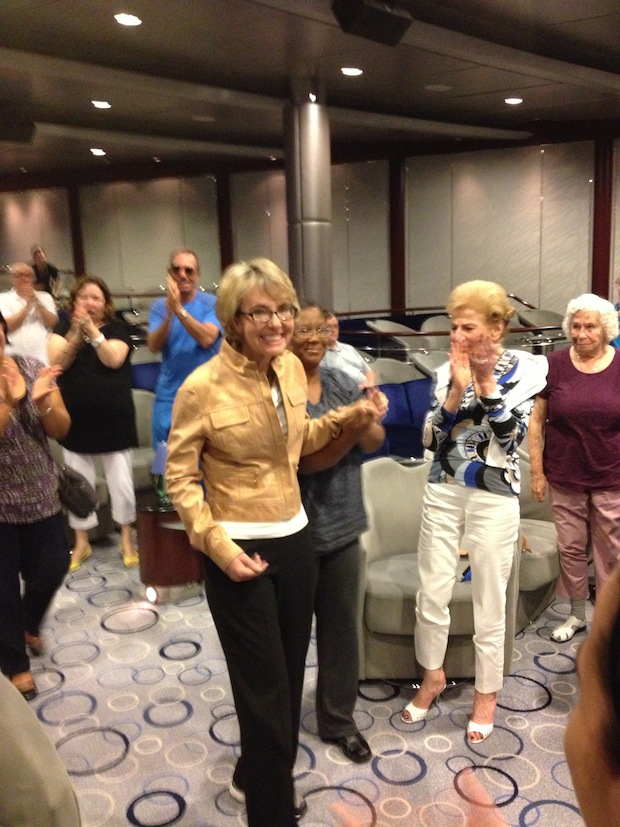 On Jan. 8, 2011, a gunman shot Congresswoman Gabrielle Giffords in the head during a meeting with constituents at a supermarket near Tuscon, Ariz. But just 19 months later, Giffords walked into a room with only the help of an aide to listen to husband Mark Kelly deliver an emotional speech on board the Crystal Serenity cruise ship Monday.  
For about an hour, Kelly (who co-wrote Giffords' book Gabby: A Story of Courage and Hope) delved into how he transitioned from a 17-year-old ambulance driver into a professional astronaut sent on four space missions for NASA. 
But the most heart-wrenching part of his speech centered on the day Giffords was nearly assassinated. After hearing that his wife had been injured, Kelly immediately boarded a plane to Arizona with his children (with ex-wife Amelia Victoria Babis) to be by her side. 
During his flight, media reports speculated that Giffords had not survived. When Kelly learned she was alive and in surgery, he cried — it was the first time, he recalled, his children saw him tear up. 
Despite all of the hardships Giffords and Kelly have endured over the past year and a half, they still remain a couple both caring and generous. At the end of Kelly's speech, they both took pictures with the nearly 250 guests who had come to hear Kelly speak. Giffords even kissed all of the guests on the cheek and thanked them for their continued support.
More News on Hollywood.com:
Scout Willis Has Been Sentences for Underage Drinking
Maeve Binchy, Author of Circle of Friends, Dies
Katy Perry, Rihanna, and Frank Ocean Storm the 2012 VMA Nominations