Psy Debuts New Single and Talks Controversy in North Korea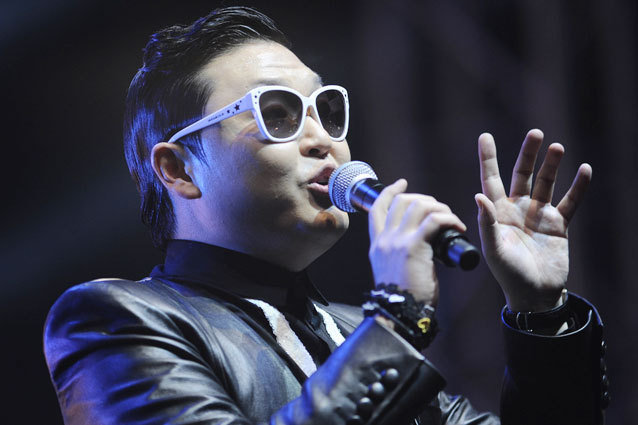 South Korean pop star Psy — who made it big in America with his hit single, "Gangnam Style" — learned the hard way that "a fish gets caught by opening its mouth." So what's a pop singer — who was already been taken to task for singing an anti-American song years ago — supposed to do when asked about heavy subjects like war and politics? Talk about how he wants his brothers to the north to share his music's "fun and happiness," naturally.
RELATED: Psy Debuts 'Gangnam Style' Follow-Up, But Will He Strike Gold Twice?
Before his performance in Seoul — South Korea's capital — the super smiley star spoke in a news conference about the controversy going on between the two countries, calling it a "tragedy," reports USA Today. The 35-year-old rapper — whose 2012 hit is still the most watched YouTube video in history — was more interested in talking about his new single, "Gentleman," which he performed in front of a crowd of 50,000 screaming fans.
Check out the official video that premiered today and tell us in the comments section if you think it's worth screaming about. 
Follow Lisa on Twitter @LisaCostantini.
---
From Our Partners:


Eva Longoria Bikinis on Spring Break (Celebuzz)


33 Child Stars: Where Are They Now? (Celebuzz)