Who Are These Ridiculously Hot Models In Beyoncé's New Music Videos?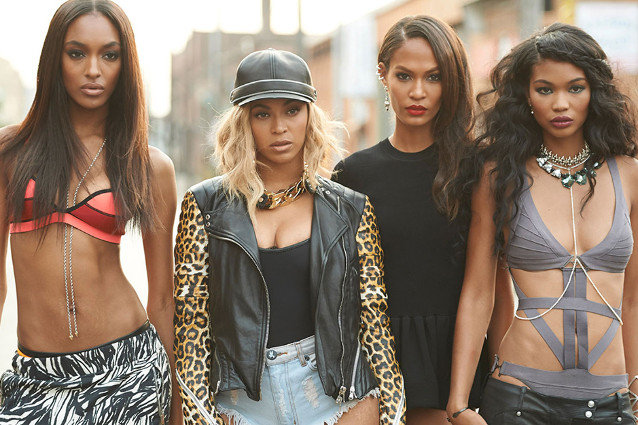 Columbia
When Beyoncé released her super-secret, ninja album Beyoncé, we were bombarded with a plethora of amazingly dope visuals to go along with. The videos for "XO" and "Yoncé" were especially hot, and she has a crew full of supermodels to thank for that.
Beyonce 'Yonce' from Forever on Vimeo.
Jourdan Dunn, Joan Smalls, Chanel Iman, and Jessica White all teamed up with the Queen Bey, and they all have us trying to figure out what to do with our hair this week. It's the return of the flawless supermodel! Let's get to know some of these impossibly gorgeous women.
Yes, that is her real name (well, Chanel Iman Robinson) and no, it's not fair that she's this gorgeous. The 23 year-old phenom has worked every runway from Balenciaga to Versace and became a Victoria's Secret Angel in 2010. She's also been linked to Harlem rapper A$AP Rocky, which gives her an extra set of cool points in our book. And even though we'd rather see her hit the runway than the stripper pole, this video she did for "Nowness" is pretty fly.
Joan Smalls: Woman of Steel on Nowness.com
Last year Smalls was named the #1 model in the industry, based on the amount of shows she walked in and campaigns  that featured her. The black and Puerto Rican beauty is so stunning and fierce, she became the star of this short "Woman Of Steel" video. Supermodel, super woman — this hard-working lady is all that and more.
The British supermodel shot to fame in 2008 when she became the first black model to walk a Prada runway in over a decade. Breaking down barriers and breaking the usual mold of a fashion star, Dunn was also the target of criticism when she announced that she was pregnant with her first child in 2009. Little Riley gets a lot of love from his Mama on Instagram, and Dunn is living proof that you can pretty much accomplish whatever you want to. Girl's got a great sense of humor too, and — according to her GQ shoot — she seduce the heck outta you with a few dance moves. Nice!