First Pics! See Gisele Bundchen's Cute New Baby — Still Hate Her Now?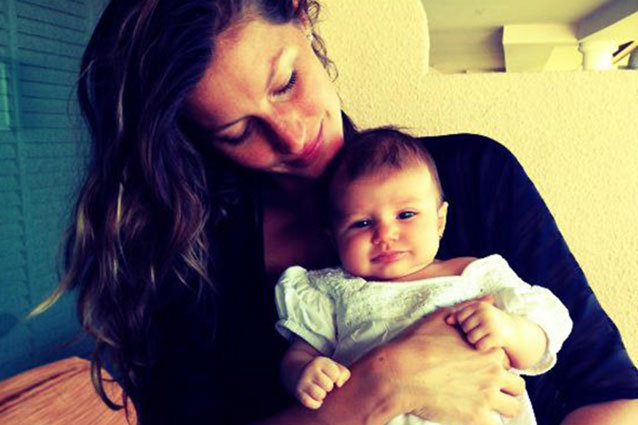 Gisele Bundchen revealed the first photos of her new baby girl Vivian Lake on Facebook Friday.
"Love is everything!!!" the model, 32, wrote in the post accompanying the pic. "Happy Friday, much love to all."
Those cheeks! Those little chubby baby feet! That dress! Bundchen's 9-week-old daughter is adorable, for sure. But is it enough to scrub the supermodel's image clean? 
RELATED: Gisele: Why Do You Keep Making Tom Brady Look Bad?
The Brazilian bombshell has a lot of marks against her: all of those husband-stealing rumors surrounding her hookup with now-husband Tom Brady, her insane quotes about childbirth (it "wasn't painful, not even a little bit,"). And, of course there's her new $20 million LA mega-mansion, which was widely ridiculed several weeks ago for having a moat. A moat.
There's certainly no love lost between her and some other football wives and fans, especially after her famous post-Super Bowl rant when she criticized Brady's teammates: "I can't believe they dropped the ball so many times."
Yup, the "Yoko Ono" of football hasn't won over many fans outside of the fashion world. But has motherhood softened her? Can you really still hate a lady holding a baby? Tell us in the comments section below: does sweet little Vivian make you like Gisele even a little bit more? 
[Photo credit: Facebook]
---
From Our Partners:

Young Han Solo Movie: Dave Franco to Star? (Moviefone)