Heather Morris Having a Girl? 'Glee' Costar Dreams It So — EXCLUSIVE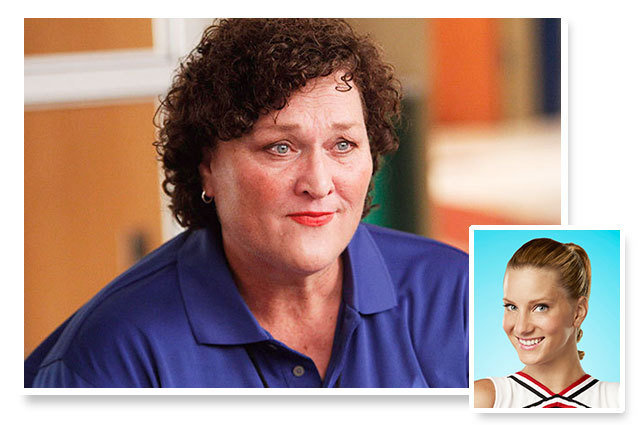 Rumors have been swirling all over the interwebs that Glee star Heather Morris is expecting her first child with her longtime boyfriend, high school sweetheart Taylor Hubbell. And although the 26-year-old has yet to confirm the news herself, she was spotted this weekend sporting a fresh face, workout gear and… a baby bump?!
To help clear up some of the confusion, Hollywood.com chatted with Glee's favorite football coach Dot-Marie Jones earlier this week. Not only did the actress tease that Morris' pregnancy is excitingly real — Jones is already predicting that her onscreen student is having a girl!
Like most of us in tune with the world of social media, Jones originally found out about Morris' tiny dancer through a tweet. "Somebody asked me about it on Twitter and I was like Oh my god you've got to be kidding!?" Upon learning the unexpected news, Jones — like most of us — was skeptical the rumors were true. "I read it on Twitter, but it's like I didn't know if it was real or not and apparently it is real," she says.
Jones — who will be returning to the hit FOX show as Coach Beiste in this week's traumatic episode — says that she had no idea that Morris was expecting while she was shooting with her on the Glee set. "I saw her [on set] but Heather is always wearing her cheerleading outfit and her jacket, so I had no idea," Jones says.
The actress says she cherishes all the actors on Glee and even though they are much older than their high school alter-egos, she still considers them to be youngins. "I still see these kids as kids," Jones says. "I mean, I understand that she is twenty-something years old but when I heard that I was like 'Wow!'"
Despite her initial surprise, Jones is already dreaming about the gender of Morris' baby. "What's hilarious is that last night I had this dream about [Heather] being pregnant," the Glee star reveals. "There were like 50 pairs of pink tennis shoes and one pair of blue that everybody had given her. It was some crazy-ass dream I had last night."
Yep, Jones thinks her dream is a prediction that Morris will be having a little ballerina in about six months. "I just have a feeling it's a girl," Jones says. "I don't know if she knows that yet." Regardless of baby HeMo's gender, the Glee actress is confident Morris' baby will be showered with lots of love and wonderful genetics. "I wish her all the best in everything," Jones says. "That kid is going to be so lucky."
Follow Leanne on Twitter @LeanneAguilera
MORE:
'Glee' First Listen: The Songs (and Scoop!) From 'Shooting Star'
'The Glee Project' Might Be Canceled. Sorry, Gleeks!
Is This The End of Finn Hudson on 'Glee'?
---
From Our Partners


Jessica Alba Bikinis in St. Barts (Celebuzz)


Pics of The Rock Making Things Look Small (Vulture)