'Glee's' Dianna Agron Apologizes For Racy GQ Photos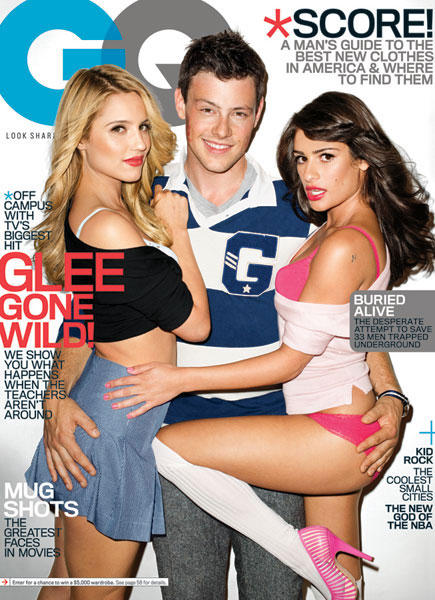 It's a pretty typical cycle: teen starlet becomes super famous, teen starlet poses for racy or mature photos, photos circulate on the internet, parents get angry, and teen starlet has to publicly feign remorse for her actions. This story is almost one of those stories, except instead of a teen, the starlets in question are both in their mid 20s. So what's the big deal? Apparently playing a teen on TV means you have to act like a teen in the rest of the world too… at least that's what a parents' organization is demanding of Glee stars Dianna Agron, Cory Monteith, and Lea Michele after the trio posed for racy photos in November's issue of GQ.
Agron took to her blog to issue an apology after the Parents Television Council responded to the photos (which were leaked and made their rounds on the internet) saying that the hyper-sexualization of actors who play high school students on television "borders on pedophilia." While I think that's a bit much considering the actors are all well into their 20s and were posing in a magazine that is written and marketed toward adult men and not young teens, the photos were fairly over the top. However, I think Agron got it right when she apologized for offending anyone but noted that "…if your eight-year-old has a copy of our GQ cover in hand, again I am sorry. But I would have to ask, how on earth did it get there?" Exactly. If the cast showed up on Glee scantily-clad and posing in overt sexual positions, I would be complaining too, but the fact is, these photos are outside of the television show in an adult magazine.
Beyond that, I'm not sure that Agron is the one who needs to be making amends after the photo shoot. In the photos, she's dressed like a sexy school girl, but only really bares her midriff and poses in mildly sexual poses. It's Lea Michele who's got some 'splainin' to do. Michele is over-the-top and borderline pornographic in these photos, posing in her underwear for most of them and even straddling a locker room bench with her legs wide open in one shot. Yeah, seriously. Agron's involvement is sexy at most, but Michele's poses are what really take the photos to an inappropriate level. Compared to the cutesy, all-American smiles from both Agron and Monteith, Michele looks like the tramp who's trying to corrupt the good kids. Take it down a notch, sweetheart.
Even so, everyone just needs to calm down. Racy or not, these stars have every right to pose for a few photos and parents need to spend less time complaining about it and more time keeping their kids' hands of off things they shouldn't be looking at in the first place.
Source: New York Times