Good Grief! Charlie Brown Voice Actor Charged with Stalking: 6 NSFW Moments in Kids' TV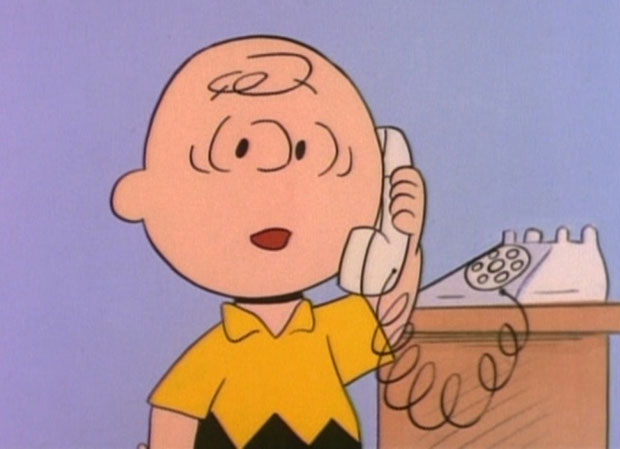 Talk about having the proverbial football pulled out from under your childhood dreams. CNN reports that Peter Robbins, the actor who as a kid lent his voice to Charlie Brown in the perennial holiday classics A Charlie Brown Christmas (1965) and It's the Great Pumpkin, Charlie Brown (1966), has been arrested on 12 felony charges of allegedly stalking his ex-girlfriend. The former child performer, now 56, pleaded not guilty on Jan. 23, but if he's convicted he could face up to nine years in prison. Quite frankly, no one should be surprised by this. Any 11-year-old who's concerned as much about the over-commercialism of American culture as Charlie Brown is bound to have issues as an adult.
The funny thing is, inappropriate behavior associated with kids TV cartoons usually is confined to the cartoons themselves. (I know what you're thinking, and Pee-wee's Playhouse was live action!) The Charlie Brown specials were not only wholesome but outright vanilla compared to these six wildly inappropriate moments in children's TV. Let's hope the voice actors involved, let alone the kids who watched these borderline NSFW clips, have gotten the therapy they need.
6. Rocko's Modern Life: You Milk Cows, Not Bulls
Rocko's bovine pal Heffer already had some major identity confusion. For one, he's a steer who was raised by wolves. For another, his name is a play on "heifer," referring to a female cow, even though he's a male. This fluid concept of Heffer's gender reaches its climax, and quite possibly so does Heffer, when he's hooked up to an electrical milking machine. Again, he is a male cow. So since he doesn't possess an udder, to what exactly was this device hooked up?
5. Batman: The Animated Series: "Rev Up Your Harley"
Being a supervillain is so stressful. There's all that lurking and hiding in secret lairs, all that brainpower devoted to hatching elaborate schemes. You're bound to neglect your girlfriend, as the Joker's moll Harley Quinn discovered. Looking for a little "action," but not of the criminal kind, Harley asks the Joker, "Don't you want to rev up your Harley? Vroom! Vroom!"
4. Bugs Bunny Is In Drag…A Lot
Not that there's anything inherently wrong with dressing in drag, but when you do it as often as Bugs does, and more often than not to inspire bestial lust in the heart of a stuttering, backwoods hunter, there may be cause for concern.
3. Animaniacs: Finger Prints or Finger Prince?
This is either the most subtle double entendre in a kids cartoon ever or the most blatant single entendre. I can't decide which. Watch it a few times and let it sink in. I mean…not in that way…just, whatever.
2. The Magic Schoolbus Kids Learn How Little Salmon Are Made
It's questionable for young kids to be learning about the fertilization of salmon eggs. More questionable for said fertilization to be visualized. But it's downright bonkers to have the kids be miniaturized and trapped inside the eggs over which the male salmon have done their business.
1. Mickey Mouse Clubhouse: Whatever This Is…
Wow. And Jerry Falwell got upset about Tinky Winky?
Follow Christian Blauvelt on Twitter @Ctblauvelt
[Photo Credit: Peanuts]
More:
Elmo Performer Kevin Clash Resigns from 'Sesame Street'

Celebs as Kids: Guess Who? (Celebuzz)