Interpreting the Rorschach Tests in Today's Google Doodle — How Crazy Are We?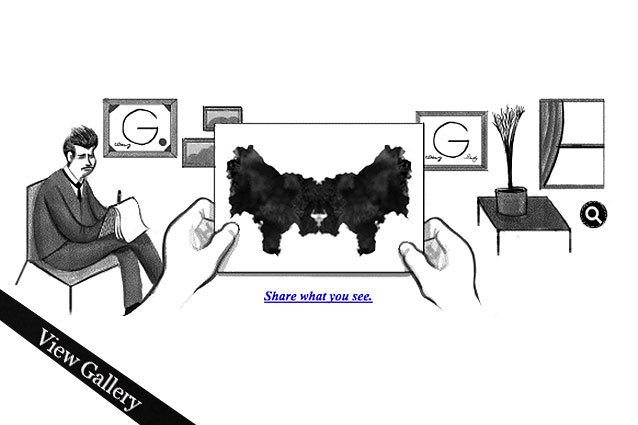 Google
Much time will be lost today due to the latest Google Doodle. The website's homepage honors the psychologist Herman Rorschach with a collection of inkblot tests for people to click through. And man oh man do people like to take tests that reveal things about their personality… especially when they involve pictures. Rorschach, who would have celebrated his 129th birthday today, brought the projective test to the forefront of psychology believing that it would enable his patients to subliminally tell him things about themselves, or rather things that they were not willing to reveal up front. 
With the assistance of Google's very own inkblot cards (some of which are quite silly), I've decided to analyze some of our writers' responses to the pictures… how hard could it be? (It should be noted that I'm not a doctor, and I have no clue what I'm doing when it comes to psychology.)
Here goes nothing: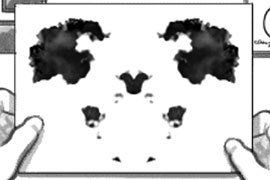 Google
"A skull, maybe." – Jordan
"Panda face." – Julia
"Dog." – Alexa
"The hands of God puppeteering a circle of ravens as they periodically kill one another off." – Michael
"Cannot figure this out." – Kayla

Analysis: Michael has a creepy imagination, and I don't feel comfortable sitting across the desk from him anymore. Everyone else is normal… for now. (Although I'll be keeping an eye on Jordan to see if this skull thing escalates.)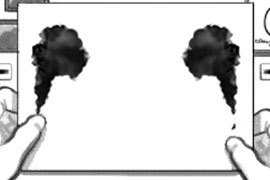 Google
"Two chicken drumsticks." – Jordan
"Like someone cried into their pillow without taking their eyeliner off." – Julia
"Smoke or dogs looking at each other." – Alexa
"Two storm clouds approaching one another slowly, carting doom with every step." – Michael
"Two broccoli? I don't know." – Kayla

Analysis: Jordan and Kayla are hungry, Julia's been watching too many rom-coms, and Alexa thinks dogs and clouds of smoke are the same thing. Oh, and Michael's soul is still dark.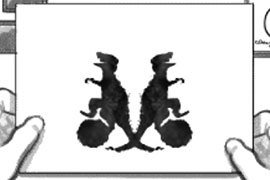 Google
"Two T-rexes about to get some unicycling in before work." – Jordan
"DINOSAURS ON YOGA BALLS." – Julia
"Dinosaurs riding unicycles." – Alexa
"The face of a sloth with two dinosaurs springing from each ostentatiously stylized eyebrow." – Michael
"Dinos on unicycles." – Kayla

Analysis: Everyone is wrong. It's obviously two dinosaurs laughing while playing soccer. And Michael is just making stuff up now.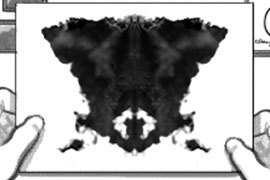 Google
"Like a fancy corset from 19th century France or something." – Jordan
"Praying mantis face." – Julia
"Angry wolf." – Alexa
"A gigantic, godly seal with tremendous forearms meditating as it guards the egg of a penguin, with fish praying at its feed." – Michael
"Black cow." – Kayla

Analysis: Jordan should start watching The CW's Reign since he likes corsets so much, and Michael is most definitely living in some sort of fantasy world. Julia, Alexa, and Kayla never had pets when they were growing up, and now all they see when they look at this picture is the animal that they wish they could have had.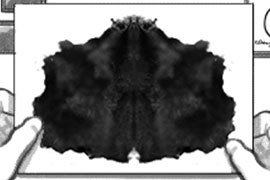 Google
"This is weird, but the first thing that came to my mind was a stretched out piece of dried skin. I think I'm a serial killer, you guys." – Jordan
"That's just a giant smudge. That looks like nothing." – Julia
"Bat." – Alexa
"A tiny crab driving a steamroller." – Michael
"This looks like nothing. This looks like a skin rug." – Kayla

Analysis: Jordan is most definitely a serial killer, and Kayla is possibly his protegee in training.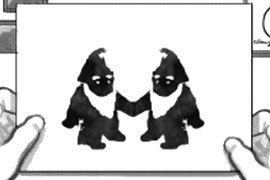 Google
"Two gnomes."- Jordan
"Gnomes holding hands." – Julia
"Elves holding hands? Lol." – Alexa
"Uh, two gnomes holding hands." – Michael
"Dwarves shaking hands." – Kayla

Analysis: Kayla and Alexa need to figure out what gnomes are.
GALLERY: Our Favorite Google Doodles