Who the Heck Are All These Grammy Performers Anyway?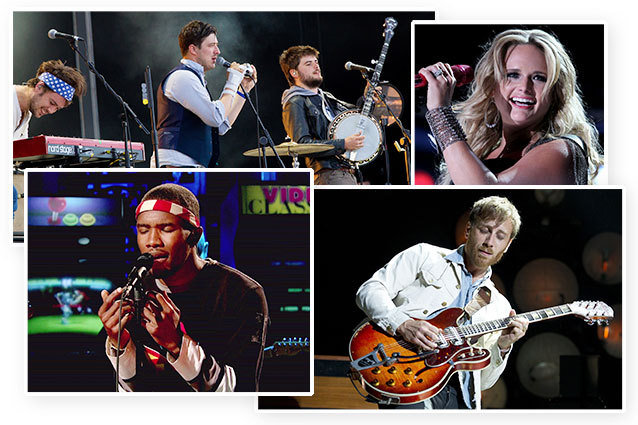 You're probably watching the Grammys to see Rihanna strut around in a sequined bustier or Mumford & Sons strum along in their flannel shirts — and fans of one don't necessarily know who the heck the other is. So don't sound like a jerk who hates fun (or fun.) by yelling, "Who the hell is that? I don't even know who that person is!" when some band you don't recognizecomes on stage;  I'm here to tell you who is who and why you should care. You're welcome.
Dierks Bentley and Miranda Lambert
Genre: Country
Who They Are: Dierks Bentley is a sort of hot blond guy who has won a bunch of CMA awards but has never won a Grammy. Miranda Lambert is a sort of hot blonde lady who was first on the reality show Nashville Star but now has become an actual a Nashville star. She has an album called Crazy Ex-Girlfriend that is somehow not about Taylor Swift. She is married to Blake Shelton, a revolving chair salesman who works on NBC's The Voice. Bentley and Lambert are currently on tour together, so their joint performance is something of a commecial.
RELATED: Grammys' Strict New Dress Code: Butts, Sideboob Banned, Guys' Nipples Okay
The Black Keys
Genre: Rock
Who They Are: After years of working the indie circuit harder than Lindsay Lohan works her assistants, the Black Keys produced a breakthrough album in 2010 and won three Grammys. The two core members, Dan Auerbach and Patrick Carney, look like they're from Brooklyn, but they're really from Akron. Go figure. Their 2011 album El Camino was also a big smash thanks to the band's hard-driving but easily accessible sound. 
Kelly Clarkson
Genre: Pop
Who Is She: You might remember her from winning the first season of American Idol or from, you know, the 7 quadrillion hits she has had since then, like "Since U Been Gone," "My Life Would Suck Without You," and "Stronger." She sang "My Country, 'Tis of Thee" at Obama's inauguration last month and definitely did not lip sync.
fun.
Genre: Rock?
Who They Are: One hit wonder or the next big thing? Who knows. We're going to have to figure that out once we get "We Are Young" out of our heads — it's been lodged somewhere near our cerebellum for like a year, ever since hearing it in every single bar in the whole universe. But FunPeriod will not be singing it at the Grammys (hello, that's what a one-hit wonder does). Maybe they should do a duet with Carly Rae Jepson. Haha. Just kidding. Oh and Lena Dunham dates fun.'s guitarist. 
Elton John and Ed Sheeran
Genre: Pop
Who They Are: If I have to tell you who Elton John is, I'm going to get Benny and the Jetts to come crocodile rock your ass and they will not be feeling the love tonight. Hell no. John has been a huge champion of Sheeran, another British singer/songwriter who has been getting tons of attention lately. He did a song with Taylor Swift and is opening for her on her current tour. He wrote a bunch of songs for teen dreams One Direction. He is a ginger and does charity work to get hookers off the street, so he's gotta be kinda cool.
Hunter Hayes
Genre: Country
Who He Is: This 22-year-old dream machine is like the Justin Bieber of the torch and twang set. This is his first album and he's had a few hits and is up for the Milli Vanilli Best New Artist Grammy. He likes planes and is from Louisiana. If there is a teenage girl in your home, there will be lots of screeching when he comes on stage. You have been warned. 
The Lumineers
Genre: Folk
Who They Are: You know how all the hip music these days sounds like a bunch of guys wearing faux-vintage work clothes sitting in a Cracker Barrel churning out tunes on washboards like it's Emmet Otter's Jug-Band Christmas or something? Well, that's The Lumineers. They have a cello. They might win Best New Artist and then everyone in American will be like, "Huh?" and the folks at The Jim Henson Company will get that otter muppet out of storage and that will be the end of it all. 
RELATED: Drake Releases New Single Ahead of the Grammys
Maroon 5 and Alicia Keys
Genre: Rock and Piano
Who They Are: Maroon 5 is fronted by Adam Levine, the reanimated ghost of Mick Jagger who recently attempted to break into acting, as they say, by appearking on American Horror Story. Alicia Keys is from a concrete jungle where dreams are made of and no one teaches grammer. She was in cinematic classics The Secret Life of Bees and Smokin' Aces. Do these people even make music? Why are they at the Grammys?
Bruno Mars, Rihanna, and Sting
Genre: Crazy, Pop, and Things Your Mom Listens to While Drinking Wine
Who They Are: OK, this is sort of like having a bacon and banana burrito. These things just do not seem to go together at all, which is either totally stupid or totally genius. We'll have to see. Bruno Mars sings that "Just the Way You Are" song you've heard in the CVS and on Glee, Rihanna is the best pop diva next to Beyoncé (even though she dates the loathesome Chris Brown), and Sting used to be in a band called The Police which sang the most popular song of all time but now just has tantric sex and sings songs that sound like glasses of chablis. 
Miguel and Wiz Khalifa
Genre: R&B, Hip-Hop
Who They Are: Miguel, a difficult name to have in the Google age, is an R&B singer whose first album was a bit of a sleeper hit but whose recent eclectic croony album is doing much better. Wiz Khalifa is a rapper. You've probably heard his song "Black and Yellow" but attributed it to Kanye West instead. They're going to be performing together on Miguel's single "Adorned," which is below. 
Mumford & Sons
Genre: Americana
Who They Are: No, this is not where you get your car repaired. Mumford & Sons is a band with a mandolin that sounds like it's from the deepest darkest mountains of Missouri (but they're really from England). Or maybe they sound more like the language of Zooey Deschanel's dreams. They lost six Grammys in 2011 and 2012 and they are nominated for as many this year for their second album Babel, which everyone you probably know already owns. Where have you been?! 
Frank Ocean
Genre: R&B
Who He Is: A member of the buzzy (and crazy) hip-hop collective Odd Future, Frank Ocean ghost wrote songs for a bunch of artist (like Justin Bieber) before launching his own album. Right before it dropped, he came out of the closet on his website and was launched into at torrent of media coverage. All the critics love his album even though his songs have fewer hooks than a desolated brothel. He has since been punched in the face by Chris Brown. He's up for six Grammys, including Best New Artist. 
Taylor Swift
Genre: Country
Who She Is: Taylor Swift is America's premiere author of blind items masquerading as songs. She's a young pop-country princess who writes her own music (commendable) mostly about her failed love life (not so commendable) with a string of famous boyfriends that includes Jake Gyllenhaal, Taylor Lautner, and one of the Kennedy clan. At the time, she bought a summer home across the street from the Kennedys so she could be close to them. Yeah, she's a little bit nuts, but the kids love her. 
RELATED: Justin Timberlake to Perform at the Grammys: Will He Wow Us?
Justin Timberlake
Genre: R&B
Who He Is: He brought sexy back. Then got a movie career. 
Carrie Underwood
Genre: Country
Who She Is: After Kelly Clarkson, she is the second American Idol winner on this list (and one of only four female winners on the show). She is now a gigantic superstar and if you haven't heard of her, you need to go to Wal-Mart more often (please pick me up some place mats). She might even be bigger than Clarkson for songs like "Inside Your Heaven." She has been nominated for five Grammys and never won one. 
Jack White
Genre: Rock/Country
Who He Is: Jack White has been in more rock bands than apples have been in pies. He started with the White Stripes and moved on to The Raconteurs and The Dead Weather. He also has released solo albums and produced records for everyone from Beck and Bob Dylan to Insane Klown Posse and Loretta Lynn. He is nominated for a Grammy for Most Going On in the Whole World. 
Follow Brian Moylan on Twitter @BrianJMoylan
---
From Our Partners:

Young Han Solo Movie: Dave Franco to Star? (Moviefone)