The Best (And Worst!) Grammy Performances of the 2000s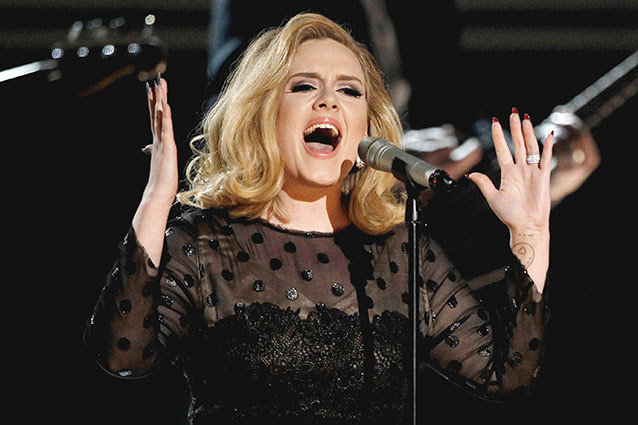 The Grammys have been around for more than half a century. Since the televised ceremony is about 75 percent awesome performances and 25 percent actual award-giving, that means a hell of a lot of musicians have killed it on stage in front of millions. In honor of Sunday's show, Hollywood.com put together a list of our favorite Grammy performances in recent memory — and a few of our least favorites, too. Let's start with the good, shall we?
THE BEST
Adele, "Rolling in the Deep" (2012)
After several months resting her voice after vocal chord surgery, Adele made her triumphant comeback at the 2012 ceremony, where she sang a chilling, goosebump-inducing rendition of her hit "Rolling in the Deep." The year belonged to her — and the six trophies she took home didn't hurt either.
Arcade Fire, "Ready to Start (2011)
It was the year that launched thousands of uninformed tweets: Canadian indie rockers Arcade Fire capped off the 2011 show with a triumphant performance of their song "Ready to Start." They also won the Album of the Year award, prompting un-hip music fans everywhere to ask: Who is Arcade Fire? Relive the tumblr for the best moments.
Christina Aguilera, Pink, Lil Kim, Mya, Patti LaBelle, "Lady Marmalade" (2002)
Does anything encapsulate the early 2000s better than this collaboration between the era's hottest pop divas? Their Grammys performance, complete with burlesque costumes and an assist from the woman who inspired their pop hit, is a great way to relive the Moulin Rouge soundtrack hit.
Jennifer Hudson, "I Will Always Love You" (2012)
When Whitney Houston died just days before the 2012 ceremony, the music world was left scrambling to figure out a way to properly pay tribute to such a legend. Hudson's touching, emotional rendition of the singer's signature tune was practically perfect — the best way possible to honor her memory.
Eminem and Elton John, "Stan" (2001)
Eminem has never shied from controversy, but the rapper needed to do something to remedy the bad press he was getting for what many deemed homophobic lyrics on his "Marshall Mathers LP." After GLAAD protested the 2001 Grammys because Eminem was set to perform, the rapper teamed up with Elton John for a powerful statement and a moving version of his hit, "Stan."
Dave Grohl, Elvis Costello, Bruce Springsteen, Tony Kanal of No Doubt, "London Calling" (2003)
What's the best way to pay tribute to a fallen rock legend? Why, by gathering a bunch of living rock legends to perform his iconic song, of course. Grohl, Costello, Springsteen, and Kanal teamed up to honor Joe Strummer after his 2002 death with a rendition of The Clash's punk hit, "London Calling."
Mary J. Blige, "No More Drama" (2002)
You might want to do some light stretching before hitting play on Blige's rousing performance of her breakout hit, because this Grammys jam will have you on your feet with your arms outstretched within seconds. Just try not to be moved, we dare you.
THE WORST
A Bunch of Music Legends, "Across the Universe" (2006)
Just because you gather a bunch of musical heavyweights to sing a song together doesn't guarantee you'll get good results. This was especially evident in 2006 when a bunch of supremely awesome people got together to perform a supremely awesome song — to disastrous results. In hindsight, the voices of Slash, Bono, Stevie Wonder, Norah Jones, Brian Wilson, Alicia Keys, Scott Weiland, Billie Joe Armstrong, Tim McGraw, and Steven Tyler, among others, might not blend so well. Their all-star tribute to The Beatles, a cover of "Across the Universe," will hopefully not be repeated again.
OutKast, "Hey Ya" (2004)
"Hey Ya" is a fantastic song, but Andre 3000's lime green, fringed, Native American-inspired ensemble, accompanied by similarly attired backup dancers, didn't quite encapsulate the happy mania the tune inspires.
Nicki Minaj, "Roman Holiday" (2012)
Minaj might be the greatest thing to happen to American Idol since Simon Cowell left, but the rapper's experiments don't always turn out quite so well. Her bizarre, Lady Gaga-lite performance of "Roman Holiday" came off as a desperate attempt to tap into Gaga's fan base — and perhaps replicate a bit of her success — rather than a brave, artistic gesture.
What are your favorite and least favorite Grammy performances?
Follow Jean on Twitter @hijean
[PHOTO CREDIT: Matt Sayles/AP Photo]
---
From Our Partners:

Celebrity Swimsuits Ever (Celebuzz)

Stars: Where Are They Now? (Celebuzz)