Green Day, No Doubt, and Other '90s Alums: A Musical Report Card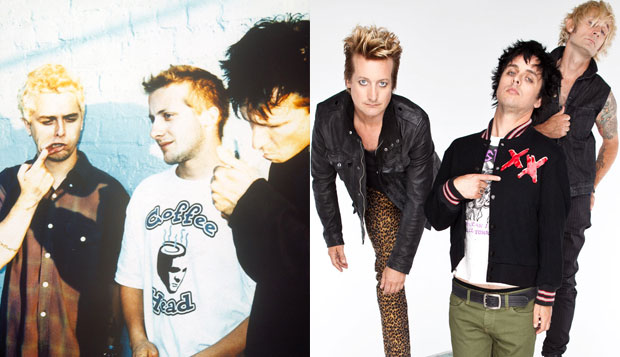 During the week of Nov. 1, 1997, 
Green Day
,
No Doubt
,
Matchbox Twenty
, and
Dave Matthews Band
all appeared on the charts at the same together. It was then that
Nimrod
,
Tragic Kingdom
,
Crash
, and
Yourself or Someone Like You
all held various spots on the Billboard 200. As of Oct. 3, 2012, all four '90s staples have reunited. No, not for a super tour (though that would be phenomenal, just ask
Sugar Ray, Everclear, Lit, and Marcy Playground
), rather, they are all on the Billboard 200 at the same time again. Break out the discman, kids. The '90s are back. 
According to
Billboard
's breaking numbers, no onstage meltdowns could get in the way of Green Day's latest, 
¡Uno!, 
from doing well, as the album, which debuted at the No. 2 spot with 139,000 units, moved. (Unfortunately for
Billie Joe Armstrong
, he may not be "f***ing
Justin Bieber
", but he's no f***ing
Mumford & Sons
either, as the folk rockers dominated this week's charts with a staggering 600,000 copies of their new album
Babel
sold, placing them firmly at the No. 1 spot). Following in the No. 3 spot was No Doubt and their long-awaited latest album 
Push and Shove
, which moved 115,000. Dave Matthews Band fell to the No. 8 slot (36,000) with their latest
Away From the World
and Matchbox Twenty's
North
moved down south to No. 19. (Both DMB and MB20 hit the No. 1 spot the weeks their respective albums were released). 
With the '90s resurgence on the charts, we wanted to evaluate which bands have been the most improved and which ones may have to stay a little later after class with a musical report card. 
Class Clowns: Come on, you had to know that any band with an album called Dookie were going to be troublemakers. While the punk trio has been around for 25 years, Green Day didn't break into the mainstream until the early '90s, when they released the aforementioned Dookie, which went on to sell over 16 million copies worldwide thanks to hits like "When I Come Around," "Basket Case," "Welcome to Paradise," "Longview," and "She." Green Day rounded out the '90s with 1995's Insomniac (which produced hits such as "Brain Stew/Jaded" and "Geek Stink Breath") as well as 1997's Nimrod, a.k.a. the album with "Good Riddance (Time of Your Life)" on it. Of course, even the class clown has to grow up. The 2000s were a noticeably different time for Green Day. After the middling success of 2000's Warning, they became Grammy and Broadway darlings with their rock opera, 2004's American Idiot (their second-best selling album with 14 million copies sold worldwide), and 2009's polished 21st Century Breakdown. While their music may never be as raucous or fun as it was in the '90s, the fact that a pop punk band can still break through on the Billboard charts will always make them rebels. 
Homecoming Queen
: In the '90s there was no girl more popular than
Gwen Stefani
. The blonde California babe had beauty, style, and substance to boot. Guys wanted to date her, girls wanted to be her, and her band No Doubt had one of the biggest albums of the '90s, 1995's
Tragic Kingdom
, which sold an anything but tragic 16 million copies worldwide propelled by hit singles such as "Just a Girl," "Spiderwebs," "Don't Speak," "Sunday Morning," and "Hey You!" Between 
Tragic Kingdom
's longevity (it stayed on the Billboard charts through 1998), interest in Stefani's personal life (she started dating future husband and fellow '90s mainstay Bush frontman
Gavin Rossdale
) and the occasional soundtrack appearance, No Doubt remained the cool kids in class through the whole of the '90s. When the 2000s rolled around, Stefani started hanging out with a new group of terribly fashionable kids (Harajuku Girls, to be precise), yet still remained popular as ever with solo albums
Love. Angel. Music. Baby.
 (7 million copies worldwide) and
The Sweet Escape
. While Stefani may have turned her back on her California punk/ska/rock crowd, her reunion with No Doubt on
Push and Shove
makes her the official homecoming queen of the '90s.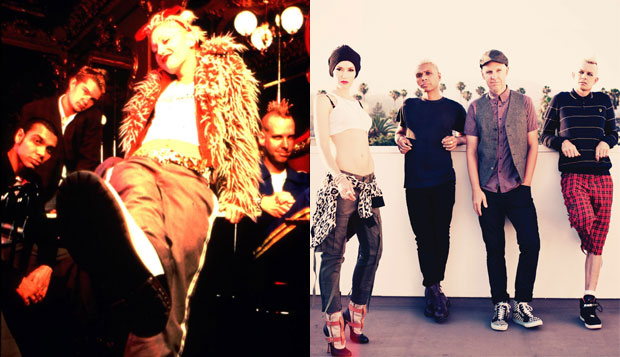 Teacher's Pet: Since 1995, Matchbox Twenty has been like that high school friend you weren't worried about bringing over to the house. They were reliable, social, and your parents loved them. Unlike their fellow '90s counterparts, this pop rock band found massive success with their debut album. Yourself or Someone Like You, which featured chart-toppers like "Push," "3 A.M.," "Real World," "Long Day," and "Back 2 Good," sold more than 15 million albums worldwide. And just in case front man Rob Thomas wasn't enough of an overachiever, he had one of the biggest songs of the '90s when he teamed up with Santana on "Smooth." Their agreeable easygoing rock helped them with their 2000 follow-up Mad Season, which went four times platinum thanks to singles like "Bent" and "If You're Gone," as well as with 2002's More Than You Think You Are and 2007's Exile On Mainstream. After their brief hiatus, the band returned with North and the edgy (well, by MB20) single "She's So Mean." Why can't you be like those nice Matchbox Twenty boys? 
Returning Seniors: Sure, you could also give them the honor of Most Likely to Get Busted Playing Hackey Sack in the quad, but perennial tourers Dave Matthews Band have staying power on par with the likes of fellow '90s breakouts Pearl Jam, Radiohead, Foo Fighters, and, for better or worse, Weezer. The eclectic jam band formed in the early '90s and caught radio's attention with 1994's Under the Table and Dreaming thanks to songs like "Ants Marching," "Satellite," and "What Would You Say," only to be followed up with the wildly successful 1996 album Crash (which went seven times platinum and inspired every guy with a guitar on campus to learn the chords to "Crash Into Me") and 1998's Billboard topper Before These Crowded Streets. Relentless touring and a devoted audience who stuck by the band's side even when they strayed from their usual M.O. (namely 2001's Everyday) has kept the band coming back just as much as the fans have. 
Participation Award: On Sept. 18, 2012 Ben Folds Five released their fourth studio album The Sound of the Life of the Mind. The album, which is the band's first release since 1999's The Unauthorized Biography of Reinhold Messner, did not chart, but BFF still earns '90s cred for their 1998 certified gold album Whatever and Ever Amen, which featured the unconventional pop hit "Brick." Keep rockin' those suburbs, Ben. 
[Photo credits: WENN.com (2), Interscope, Warner Bros.] 
More: