Grin and Bare It: Celebrities Strip for the Big Time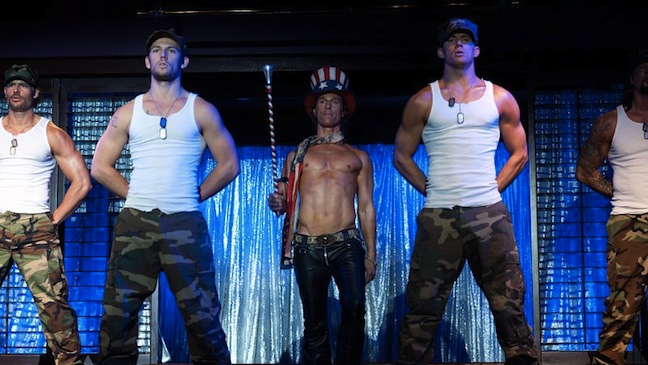 As it turns out, everyone's didn't-know-we-needed-it-til-we-needed-it film du jour, Magic Mike, is the 2012 official gift that keeps on giving. And giving. And giving. And…where was I? Oh yes. Stripper movies. Ahh yes. While they might not always play a hooker with a heart of gold, actors love to take on complex roles, especially if the complexities lie beneath a nice figure with a tawdry career. We are talking, of course, about strippers. You see, our boy Channing Tatum wasn't the first person to star in a movie that bares all and really makes you work it, for it. Long before, actors and actresses alike were taking on characters that find themselves in very, very precarious situations.
The only people more obsessed with playing strippers than celebrities are… actually, no, no one else. There are other people more obsessed with strippers than celebrities (most of whom are slightly creepy), but Magic Mike has made it OK to gawk… if only for a moment longer. So let's take a stroll, shall we? Walk down Memory Lane, take a left at Childhood Drive, and at the intersection of that and Bad Decisions Lane, you'll find where we're heading: the jackpot! Click on if you're into finding out which 14 celebrities are our favorite strippers ever.
And be warned! If you're at work, checking out a bunch of nearly-naked folks might be a little NSFW, OK? Don't say we didn't warn you when HR walks past you!
Click Here to Launch Our 14 Favorite Celebrity Strippers Gallery!
[Photo Credit: Warner Brothers]
Follow Alicia on Twitter @alicialutes
More:
The 'Magic Mike' Boys Finally Get Naked — TRAILER
Channing Tatum Shows Off Pre-'Magic Mike' Moves in Leaked Video