Growing Up Beastie: Remembering Adam Yauch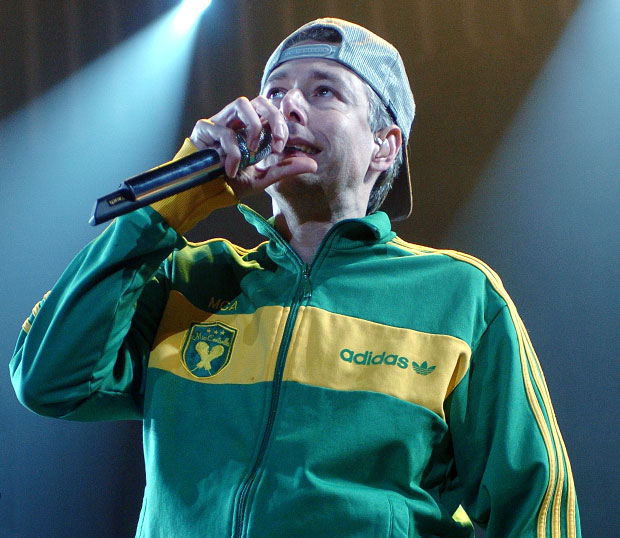 For a generation of music fans, The Beastie Boys didn't just open a door, they blew it wide open to an entirely new world. Like many other people my age, Licensed to Ill was the first hip-hop album I ever purchased on cassette (I bought mine after my cousin Jeff, who was already the coolest person in the world in my eyes, had introduced me to them), and it forever changed the way I heard music.
But perhaps the most amazing thing about the groundbreaking, game-changing 1986 album is that while it was like nothing many of us had heard before, it resonated so differently with everyone. While some enjoyed their first taste of the hip-hop world from License to Ill — which effortlessly merged the genre with rap, rock, and punk — others heard three unique voices that were changing the evolving musical landscape. What I heard was home. As a native New Yorker, there was nothing that made me feel as connected to my hometown, even when I didn't live there, as those fellow native New Yorker's "No Sleep Til Brooklyn" or "Paul Revere" or "Slow and Low." 
All of this makes the tragic news of the passing of Beastie Boys' founding member Adam Yauch, who died at the far-too-young age of 47 after a battle with cancer, that much more devastating to his lifelong fans. (That was the thing about being a Beasties fan — it was never a phase. You were in it for life.) It's rare to say an entertainer truly impact you or could change the course of your life, but Adam Yauch, Michael Diamond, and Adam Horovitz — MCA, Mike D, and Ad-rock, if you will —did just that for countless future musicians or anyone who truly let music in to their lives.
Even rarer, the Beastie Boys evolved right along with their listeners and the world around them while staying true to their roots. As newer generations discovered the trio by TRL votes for "Intergalactic" or viral sensations like "Fight For Your Right Revisited," the same generation that bought Licensed to Ill — and Paul's Boutique and Check Your Head and Ill Communication, for that matter — and whose sense of humor was shaped largely by the wildly funny and self-aware artists (look no further than the videos for "Sabotage" and "Hey Ladies" for proof of that) stayed right there with them.
Beastie radio classics like "So Whatcha Want" and "(You Gotta) Fight For Your Right (To Party)" still have the ability to transport you back to your youth, but without any sickly sweet nostalgia that tends to come with art that hasn't aged well over the years. The hits are still as cool and daring and fun as the first time you listened to them. There really isn't much left in this world like that.
The Beastie Boys and Adam Yauch will mean something different for every fan. For some, they are a reminder of carefree days; for others, a battle cry to stand up for what you believe in, be it with music or movies or art or politics or how we treat our fellow man, and challenge the status quo. For me, the Beastie Boys will always be the first band that challenged me to appreciate other genres. They will always make me recall listening to that Licensed to Ill tape with my cousin Jeff. They will be the reassuring, proud voices that helped my aching heart heal for my city. They will remind me of driving around in my car listening to "She's Crafty" and "Paul Revere" at a volume that was ear-splitting at best. They will bridge my childhood to my adult life and bring my hometown to wherever my life and my headphones take me.
It's hard to imagine the Beastie Boys going on without Adam Yauch because, sadly, with no MCA/Nathaniel Hornblower, there's simply no Beasties. But it's even harder to imagine a world in which we grow up without the Beastie Boys. Yauch is leaving the world with a rich musical legacy, but he's leaving us all with something just as impactful: The sobering reminder to make the best of the time you've got.