Grumpy Cat Snacks on Filet Mignon at Friskies Photo Shoot: What Would Maru Demand?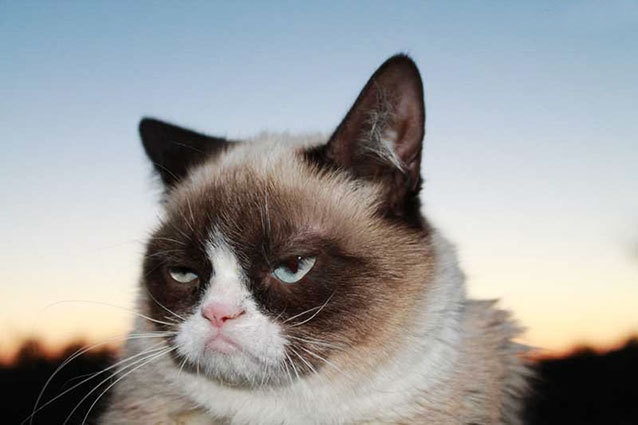 Because nothing sells a product quite like a frown, Grumpy Cat (who really needs no introduction, but here, if you insist) has been named the newest face of Friskies. And if TMZ is to be believed, she is being more than a little high maintenance about it. 
To get to her first Friskies photo shoot, which took place in Austin, Texas, Grumpy was flown to the Lone Star state first class. Then, TMZ reports, she feasted on an endless supply of Friskies, bottled water, and filet mignon. To prep for her close-up, Grumpy was brushed to fluffy perfection by her own, full-time assistant. And then, when shooting was done for the day, Grumpy had her chauffeur drive her back to her four-diamond hotel where she could take a quick cat nap in her own king-sized bed. 
RELATED: 15 Pop Culture Felines That Turn Us Into Scaredy Cats
And to think, my cat is satisfied with a half-eaten can of tuna and a sunny, cat-sized spot on the tile floor. 
Grumpy's newly discovered diva antics got us thinking: What crazy demands would our other favorite Internet cats be wont to make. The possibilities are endless. 
Spaghetti Cat obviously needs a bottomless bowl of the pasta. Only handmade noodles flown in from Italy will do, and they must be served in a Waterford crystal bowl. Allowances must also be made for Spaghetti Cat's video entourage, which follows him everywhere to document his life for The Morning Show with Mike and Juliet. 
Maru, the Japanese box-loving Scottish Fold, demands six dozen cardboard boxes of all shapes and sizes. We're talking large boxes, small boxes, skinny boxes, boxes with lids, boxes with both ends open. Oh, and all boxes must be covered in gold leaf. Maru also requires at a patch of sunlight no smaller than 36 square feet. 
RELATED: Our Meme-tastic Interview With Purrfect the Cat
Shironeko, aka Basket Cat, is too lazy to write up his own list of demands. But his second assistant reports that he won't show up to a photo shoot for less than 24 baskets a day — he needs a new basket for each hour. Oh, and a crown. Shironeko wants a crown… made out of heirloom cherry tomatoes. 
Tiny Lil Bub, who is now officially a movie star — no really, a documentary about the bug-eyed feline premiered at the Tribeca Film Festival — calls for Beluga caviar, to be fed to him one roe egg at a time (because his lil tongue is too small to handle more than one) by his own personal spoon feeder. And he demands a silver — no, platinum — spoon.   
But Henri, Le Chat Noir, doesn't need anything. C'est la vie. C'est la mort. 
Follow Abbey on Twitter @AbbeyStone
[Photo Credit: Tardthegrumpycat.tumblr]
---
From Our Partners:


40 Most Revealing See-Through Red Carpet Looks (Vh1)


15 Stars Share Secrets of their Sex Lives (Celebuzz)