Guy Fieri Defends His Times Square Restaurant After Scathing NY Times Review, Hombre!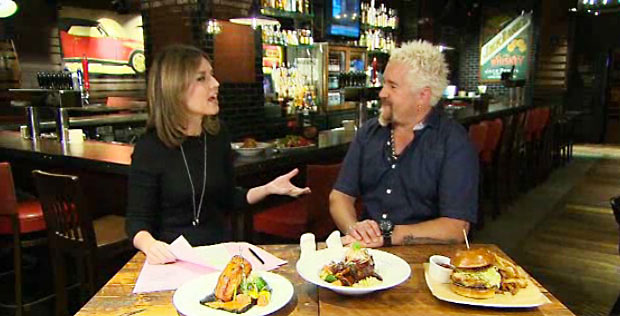 Food Network star/inane catch phrase spouter/Smash Mouth's Steve Harwell lookalike and co-author/ungodly human hybrid of The Heat Miser, King Koopa, Duff Man, and a pair of Ed Hardy cargo pants Guy Fieri is not happy with the review the New York Times gave his Times Square restaurant Guy's American Kitchen and Bar. Pete Wells, the NY Times critic, gave a scathing review in which he pondered the restaurant's great mysteries like, "When we hear the words Donkey Sauce [an ingredient in one of Fieri's menu items], which part of the donkey are we supposed to think about?" and "Why did the toasted marshmallow taste like fish?" In short, Wells did not enjoy his trip to Flavor Town. 
Since then, the takedown of the Diners, Drive-Ins, and Dives host has gone viral, with both Fieri's defenders and detractors giving their opinion of the opinion. Now Fieri himself, who presumably took a break from finding different ways to improperly wear sunglasses, is chiming in. The spiky-haired personality appeared on The Today Show on Thursday morning to talk about what's being heralded as "the worst restaurant review in the paper's history."
"I just thought it was ridiculous," Fieri told anchor
Savannah Guthrie
of Wells' review. "There's good and there's bad in the restaurant business, but that to me went so overboard, it really seemed like there was another agenda. … The tone, the sarcasm, the question style. He came in with a different agenda."  Ah, yes that terrible liberal media out to take down hard-working Americans whose job is to literally stick his fingers in other people's food. (Watch it
in reverse
!) Fieri argued that it wasn't fair to critique a restaurant that was still in its earliest phases and that he is "striving to do it perfect." 
Fieri's rep also released a statement to Hollywood.com regarding the review, which reiterated: "I wholeheartedly disagree with The New York Times' Review of Guy's American Kitchen & Bar. My philosophy on life is what drives my attitude towards food…We've only been open a short while, but I've seen countless people come to my restaurant – families, fans, tourists, and yes, even New Yorkers – looking to get away for an hour or two, and they've had a great experience and a meal that they enjoyed…. I'm proud of the food we put out, and always will be."
Watch the full Today segment, in which Fieri assures his restaurant is "not just a name-stamp", here: 
Visit NBCNews.com for breaking news, world news, and news about the economy
Is anyone else desperately hoping Bobby Moynihan is warming up his Guy imitation for Saturday Night Live this weekend? "Good call, meatball!"
Do you think Pete Wells was too harsh on Guy Fieri? Or should the TV chef have had his restaurant up to snuff from Day 1? Do you also get a terrible, sinking feeling that one or more of the menu items could be glazed in Axe Body Spray? By the way, stay tuned, as Hollywood.com's Kelsea Stahler and Abbey Stone will make their way to Flavor Town and have their own full review of the Times Square eatery later today. 
[Photo credit: NBC] 
Additional reporting by Lindsey DiMattina.
More: Anthony Bourdain Also Slams Guy Fieri's Restaurant
Anthony Bourdain on the 'Hipster Apocalypse,' No Reservations, & Moving to CNN — EXCLUSIVE