Guyfall: Testing Fieri's Greasy Spoon in the Aftermath of the 'Times' Review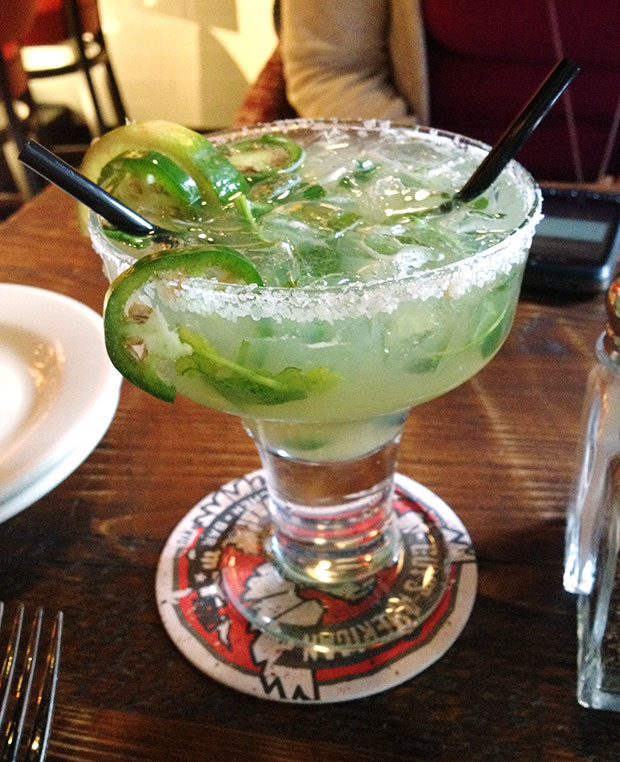 "Is the entire restaurant a very expensive piece of conceptual art?" says Peter Wells in the now infamous New York Times review of celeb chef Guy Fieri's American Kitchen restaurant in New York's biggest tourist trap, Times Square. It's impossible to read a line like that and not wonder, "Could it really be that bad?" Or perhaps, "How does one make a marshmallow taste like fish?" "Which ingredient in the watermelon margarita holds the key to the formaldehyde essence?" "Do we really need our ice cream to live up to the boulder-sized claim? Aren't we a cuddly enough country as it is?"
And when the man of the hour, Fieri himself, goes on national television to claim that Wells "had an agenda" when he walked through the heavy doors of the 44th Street establishment, the restaurant may as well have transformed into a giant magnet — we, the consumers of all things pop culture, were mere fragments of metal, unavoidably pulled in the direction of the shining beacon of fried goods. Hollywood.com sent me to the scene of the alleged crime against gastronomy to experience the supposed atrocity as your average restaurant-loving New Yorker. This is my story.
Nestled among some of Time Square's most treasured theater district haunts, Sardi's and Carmine's, sits Guy's American Kitchen. If you hadn't witnessed the media explosion surrounding the popular restaurant, it would seem just like any other wallet-draining, waistline-expanding establishment in and around the city's flashiest district. However, as celebrity editor Abbey Stone and I entered the house of Donkey Sauce, we both felt a sense of trepidation. Was this the worst meal we would ever eat? Why did the air smell so much like cayenne pepper and raw onions? Were my eyes stinging or was I just excited?
We sat in the restaurant's bar, which is the section of the restaurant that feels most like the American Kitchen promised by the unostentatious name. Pots hang above the tables, and bar is stacked with cans upon cans of Rolling Rock and Pabst Blue Ribbon. If it wasn't for the wall of "Welcome to Flavor Town!" shirts, plates, tumblers, and aprons by the door, it would appear to offer the promise of its low-key name — at least aesthetically. But despite its easygoing atmosphere, it was hard not to feel as if we'd entered the battleground. Was Fieri right? Was Wells just making a ruckus? Or was the menu an embarrassment of mayonnaise?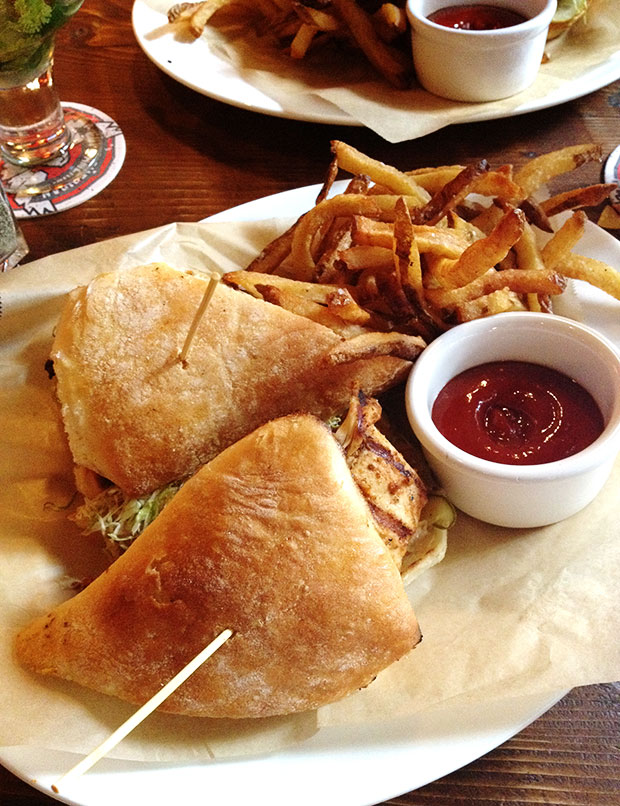 The tension was so high that when our waiter asked if we wanted to start off with a drink, we looked at each other in bewildered terror, wondering if the boozy elixirs would make us grip our throats in pain, or if they'd simply do what most alcohol does: make lunchtime a little more fun. After a failed attempt to order the suspiciously blue watermelon margarita, we learned that Wells' claims had killed the item. It had been dramatically stricken from the menu. We settled on the jalapeño margarita, which for a drink decorated with fresh, sliced peppers around the edge and a few floating among the cilantro in the cup, was remarkably mild. Still, we were doing all right. Nothing seemed too out of the ordinary.
When it came time order some of this "inedible" grub, we made sure to get the full experience: the questionably Awesome Pretzel Chicken Tenders, the perplexing Guy-talian Nachos, the gobbledygook Unyawns Cajun Chicken Ciabatta, the Guy's Big Bite Burger & Rojo Ring, and Guy's signature Salted Whiskey Caramel Fool. And fear not, we made sure both sandwiches came with the legendary Donkey Sauce. Fun fact: it's just saucy, less-bland mayonnaise!
But you're dying to know, did the flavors make us want to crawl into the nearest TGI Fridays and beg for a plate of their fried green beans or lava posing as artichoke dip, just to rid ourselves of the taste? Did we curse the New York zoning commission for allowing this atrocity within Manhattan's foodist borders? Were we about to regret our attempt to enjoy this gastrosplosion?
No. Not even slightly. While it's true that slivers of pepperoni belong nowhere near any self-respecting plate of nachos, and the notion that pronouncing the word Italian with a first syllable resembling the pronunciation of Guy would make any New Yorker cringe, the food wasn't life-endingly terrible. I won't shudder when I walk past 44th, or jaunt across the street from Fieri's flaming marquee to catch a matinee of Matilda on Broadway. The chicken tenders certainly didn't need to replace your average batter with pretzels and almonds, but the choice of herbs wasn't anything to balk at. They were tasty. We may have had to saw through the buns on our sandwiches as they'd clearly been working on their heat lamp tans in the kitchen, but Wells' "long refrigerated tunnel" had clearly been shut down. Donkey Sauce isn't exactly a revelation — and for that matter, neither is Fieri's "super melty cheese," which tasted like an unholy combination of real cheddar and the foodstuffs that comprise Kraft singles or Velveeta. Aside from the Rojo Ring, which may be the best onion ring I can remember eating, the meal was largely average: tasty, crispy, and a tad overpriced, just like every other touristy attraction. The wacky names and extra ingredients are clearly less for augmenting flavor, and more akin to the Rumble in the Jungle Turkey Wrap at your local Rainforest Café. Hint: it's a gimmick.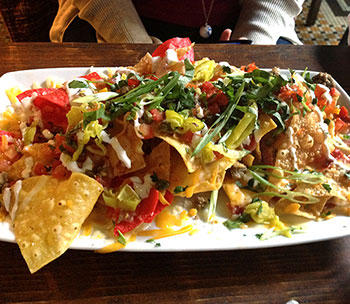 And aside from a fork fumble here and there by our bus boy, the restaurant seemed to be running just as it always had, untouched by the media maelstrom surrounding it. Businessmen ate their lunches and chatted, tourists talked about what show they'd see that night or whether or not cough up the dough for Madame Toussads. A few construction workers leisurely sipped the surprisingly reasonably-priced PBR tallboys at the bar. A group of friends wondered if the man who'd just rushed out was a celebrity, or just some guy who looked like him. "It's just like any other day," one employee told me. Of course, the staff had been instructed that morning not to express any opinions regarding the review or Fieri's Today interview, so perhaps not just like any other day, but as close as could be.
At the end of the day, the Times review was wildly entertaining, riotous, and unlike anything we've ever seen from the paper, however hyperbolic — but it was clearly a reaction to Fieri's status as a "celebrity chef" at the head of a restaurant that takes beloved Southern American cooking and turns it into lip-smacking mass produced goodies instead of highbrow cuisine that could do the industry proud. One thing the review seems to forget as it gives a tour of Flavor Town is that this is the guy who says things like, "I could put this on a flip-flop and it would taste good," and, "I wanna be the ambassador to Chimichanga Flavor Town." If his restaurant wasn't an amalgamation of over-the-top phrases drenched in ingredients so mismatched it's likely your tongue might run away in fright, wouldn't we be disappointed? Well, I would.
If Fieri's New York mecca wasn't a perplexing world of Corvette logos, plush leather booths, and desserts so full of whipped cream the crumbly pieces of pound cake have no place to reside, I'd probably be disappointed. If it was a revelatory mix of homestyle cooking and innovative recipes, wouldn't we be ranting about how putting it in Times Square ruins it for the rest of us? It's exactly what it needs to be, and the largely nonplussed clientele and wait staff are clear indications of that. The New York Times may have tried to take down Flavor Town, but its colors don't run. It will top nachos with peperoncini. It will put the underwhelming Donkey Sauce on everything. It will hide the listless flavor of its chicken fingers with an preposterously strong honey-mustard concoction. And you'll like it. Or you'll take the first train out of Flavor Town.
Follow Kelsea on Twitter @KelseaStahler
[Photo Credit: Abbey Stone]
More:
Guy Fieri Defends His Times Square Restaurant After Scathing NY Times Review, Hombre!
Anthony Bourdain Slams Guy Fieri's Restaurant
Anthony Bourdain on the 'Hipster Apocalypse,' No Reservations, & Moving to CNN — EXCLUSIVE

Prince Harry's 'Naked Vegas Party Pal' Carrie Reichert Writing a Tell-All Book — EXCLUSIVE
(Celebuzz)