Guys Choice Awards 2012: Neeson, Wahlberg, Beckinsale Win Big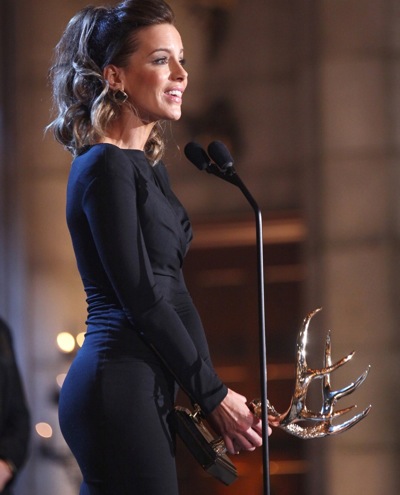 Touting itself for the definitive awards show for "stuff guys want," the Guys Choice Awards is Spike's annual tribute to men who deliver on manliness, women who define modern hotness (which requires both looks and brains, people) and general stand outs in both pop culture and sports that fit the bill. Really, anything goes if it's up a man's alley.
This year, celebs from across Hollywood came to party at the rowdiest awards show in town, including Adam Sandler, Jeremy Renner, Mila Kunis, Matthew McConaughey, Kristen Bell, Julianne Hough, Channing Tatum, Malin Ackerman and Andy Samberg. This year's big winners were even more diverse. Here's the rundown of the kings of the 2012 Guys Choice Awards:
Best Ass Kicker
Ryan Gosling
Liam Neeson
Most Dangerous Man
Manny Pacquaio
Floyd Mayweather Jr.
Holy Grail of Hot
Scarlett Johansson
Sofia Vergara
Unstoppable Jock
Lebron James
Eli Manning
Our New Girlfriend
Kate Upton
Doutzen Kroes
Guy of the Year
Brad Pitt
Louis C.K.
Top Fantasy Leaguer
Aaron Rodgers
Albert Pujois
Comedy MVP
Will Ferrell
Louis C.K.
Hot and Funny
Kristen Wiig
Emma Stone
Outstanding Literary Achievement
Dick Cheney, In My Time
Tina Fey, Bossypants
Jean-Claude Gahd Damn
Kate Beckinsale
Rooney Mara
Rookie of the Year
Cam Newton
Kyrie Irving
Hottest Zo(o)e(y)
Zoe Saldana
Zooery Deschanel
Best Fight Scene
Mark Wahlberg (Contrabad)
Mark Wahlberg (Ted)
="font-style:>
More:
'Hunger Games' and 'Twilight Saga: Breaking Dawn' Among MTV Movie Award Winners
MTV Movie Awards Winners: Which Winners Were Actually Good?