Gwen Stefani: The Best of Gwen Glam
Before there was Gaga, there was Gwen. Whether spending a day at the park with her boys or rocking out on stage, Gwen Stefani has been setting trends in fashion and in music for over two decades. While she's gone through many phases, from bindis to pink hair to Harajuku-fashion, Gwen has mastered the art of the signature look. Her platinum hair, red lipstick, and track pants have returned time and again to assure us that Gwen will always be Gwen. And that's why we love her!
Click Below to See the Entire Gallery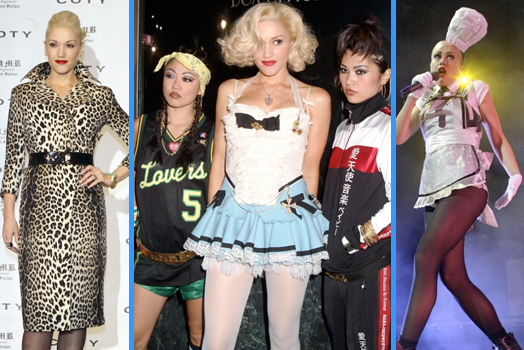 ABOUT KATE DURBIN:
Kate Durbin is a Los Angeles-based writer, performer, and fashion artist. She is the author of The Ravenous Audience (Black Goat/Akashic, 2009), Fragments Found in a 1937 Aviator's Boot (Dancing Girl Press, 2009), and Kept Women (Insert Press, forthcoming). She is founding editor of the project Gaga Stigmata: Critical Writings and Art About Lady Gaga, which has been featured by Salon.com and The Huffington Post, among others. Her fashion essay, .