Gwyneth Paltrow and Cameron Diaz Are Rappers Now, Apparently — VIDEO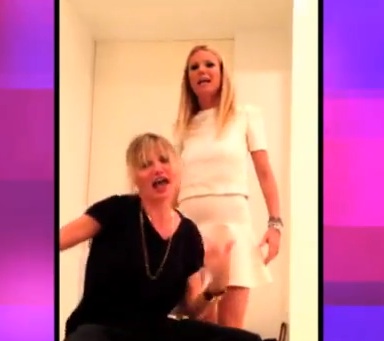 Yo yo yo, their names are Gwynny P and Cameron D and they're here to say, they're going rap on national television in a most embarrassing way!
Gywneth Paltrow
and
Cameron Diaz
— sorry, MC Gwyneth Paltrow and DJ Jazzy Cameron Diaz — came up with a rap for their friend
Chelsea Handler
and her upcoming move to a new studio. The newly formed hip-hop duo recorded the whole thing on camera and Handler debuted it for all the world to see on her E! series
Chelsea Lately
. 
Now, for better or worse, we're all familiar with Paltrow's rapping skills/street cred (she is pals with
Jay-Z and Beyonce
, after all) but Diaz, aside from having dated 
Justin Timberlake
for a while, is pretty new to the game. So how did they fare as a unit? 
While they aren't as terrible as you might imagine (it, is, however pretty high on the level of eye-rolling corniness), the ladies might not want to quit their day jobs. At one point Paltrow raps about how Handler is "a ho" who "drinks too much", while Diaz accompanies her as a human beat box. They conclude the whole thing with a verse, "
50 Cent
says you like it rough." Oh snap!
No matter what your feelings are about Diaz and Paltrow are (particularly the Oscar-winning actress' newfound
affinity for rapping
), this video likely won't tip the scales in a new direction. So, sit back, watch it and savor the flava. Or not.